How Yoast can be used to really improve your blog by ignoring the green lights. We are fixed on perfection, maybe there is a better way to go
Yoast SEO the WordPress guide to great traffic
First of all, I am a confessed Yoast user a paid-up pro user on some of my sights. I Have tried All In SEO and settled back to the one I find works for me.
This is a free plugin for your WP site and one of several options necessary to meet the Google guidelines on page structure.
There are others that I have tried however I have returned to exclusive use of this Plugin
It checks both your writing and your SEO
There are many rules when seeking traffic on your site. Maybe more than twenty that you must know about and follow. If you don't do this you will fail, Just kidding however let's look at the good and bad of what is on offer.
First up is writing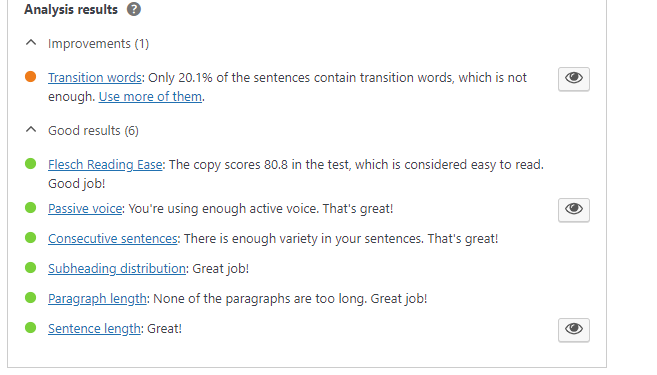 This gives you an idea of what Yoast is looking at. Whilst I agree with some of this I don't always go 100%.

In reading ease and passive voice as well as transition words there is a conflict. It is difficult to get the balance correct if not impossible.

I have loaded great posts that get bad scores and bad posts that get good scores so I am left with doubt as to the correct answer.

An example is adding a long list or table. If you exceed the number of words in the paragraph you will be marked down however Google loves these. Lists and graphs are Googles favorites yet the control of them is managed.
I have tried breaking them up to get a better score but it affects my writing.
Because my word limit was topping out see how I have had to break away to a new #3 header yet the subject is not complete. I did this using a #3 header as part of the main #2 heading

Adding a long list or table is an example.
At the most basic level the active voice emphasizes the person or agent who performs an action, in short the "actor." The passive voice emphasizes the recipient of the action or sometimes the action itself.
The subject comes first in the above paragraph about lists and tables. Likewise, the verb comes first (the action). This may drive you bonkers and I wonder if it is all worthwhile.
The full details of active voice can be found on a Google search.
Writing to please Yoast can be hard work.
Writing to please your readers is far more important.
Getting your head around good SEO
Let's first look at a post example and how it was marked. Furthermore this increased my passive voice yet again. Dam I hate this.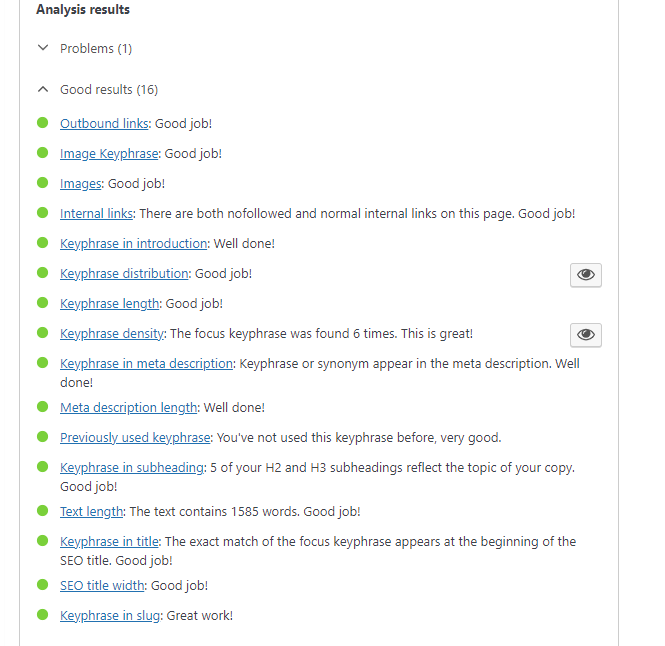 Ok off to a new paragraph because I hit my word count
This is a big list of things to do. It will certainly take some time to manage all the necessary inputs.
Breaking them into groups makes life a bit easier, the setup comes first.
Having your Keyword, meta description, opening paragraph are the first task.
Paragraph length and sentence length you can manage along the way.
And all the fiddly bits in a review.
There are four important issues that you must adhere to.
Internal links. Connecting to other pages you have written.
External links. Affiliate sites, authority sites or further reading .
Adding Alt text to all Images and pictures
Using a good balance of keywords and Synonyms


The first two are self-explanatory however Alt Text may leave you wondering.
These are simple words that describe what your picture is about. In most cases your Keyphrase will do the job. Then use a good descriptive passage like an image of the Author.

The keyword request is a tricky one with some disagreement from authorities. In the olden days we used our keywords at every available opportunity now we can but sparingly insert them. Yoast sits at about one every five hundred or so words.
Furthermore, similar phrases should appear in your subheadings.
If all this seems too hard don't give up. It will become second nature as you swear at all the instructions and make your changes.
How Yoast can be used by increasing your words.


The word count dilemma in writing for the internet
There are three objectives to consider.


| | |
| --- | --- |
| Words in a sentence. | About 20 is tops |
| Then words in a paragraph | No more than 300 |
| Total word count in your article | The jury is divided |
To meet the objective of all concerned the consensus agreement is around 1500 words
It may be shorter or longer however it seems to be agreed the range is 800 to 3000 words.
When you first start writing three hundred words is a hard target. A lot of my original blogs were quite short. However time and experience lift the word count up to an easy task.
In addition, we look at writing and How Yoast can be used to help this.
Why blogging for business is a good idea

The easy way of extending your writing to 1500 words
I am throwing this in as an extra because it may help you in your efforts.

Once you have your Keywords and description worked out then it is all about paragraphs.
Remember you are answering a question or explaining how something should be done.

First of all answer the question, this helps those that don't want to deep dive.
Next, write out your headings and subheadings. I generally use the AIDA principle >

| | |
| --- | --- |
| Attention | You have one opportunity to keep readers |
| Interest | Who else has done it what they achieved |
| Desire | What it can do for the reader |
| Action | The things they need to do |
| Close | Your conclusion and branding |
With say six-ten good headings It is then a matter of filling in the words. At a couple of hundred each headings you are off to the races.
Writing a good blog page is an example
Your links have changed, Google wants clarification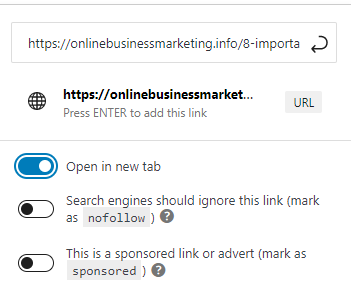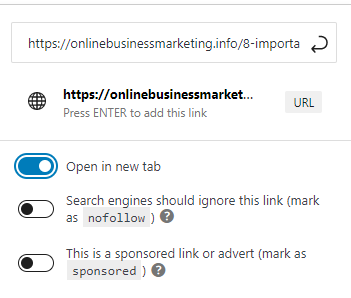 Including internal and external linking are part of the objective. This is where you can achieve several great objectives.

There is no limit to the number of links in a post however I believe too many is just that. You must also remember that if they are close together they will not work on a mobile device.

Furthermore, Google will ask you a question when you add a link.
When you are going to a sponsored suite click the bottom button. If you are going to an internal site insert the URL. If you click the Open in a New Tab button they will return to this page when they are finished. I use this in most cases.
In addition, add a / to your URL. This will give a faster upload.
How Yoast can be used to get clicks.
Achieving these few objectives in writing will lift your levels and get clicks
If you are selling something run an affiliate page, linking to a product or home page a well-structured article will lift your results.

The umpire Is Google, you may hate him but he runs the show. Google is so picky it is probably a she. ( no offense meant)
Therefore getting help from someone like Yoast is necessary to your results. Without it, you are doomed to pages 20 or so where no one reads your stuff and you have wasted a bundle of time.

You need to get to page one and without following the rules it just won't happen. Over 90% of readers never go past the first couple of pages in a Google search. Furthermore, you have paid ads to take up half the page,

My Yoast conclusion and wrap
Many of the basics have been covered however further research may well be advised. Great training is available on any of the topics including a full program at Wealthy Affiliate, a training site for business and general internet information. Ideal for beginners and pros as well.
In addition, a free website is provided for beginners

Good writing and SEO are essential to your success.


How Yoast can be used to really improve your blog by Peter Hanley