Why blogging for business is an excellent idea and a task that should be done on a regular basis to build branding and business confidence
Provide both relevant and useful content to your perspective customers
It turns out that blogs are very much like Newsletters in a longer format. When surveyed recently it was found that;
People read blogs to learn something new
They also need to be entertained
and are looking for industry trends and news

However, the age-old question is always do they work, and is the effort and time spent worthwhile. In a recent HubSpot review, people surveyed were asked about blog posts
and they were challenged on the question of use;
When they asked, "Have you ever purchased something from a company after reading a Blog post from them?", a whopping 56% said, "Yes."

HubSpot
The challenge is too meet the customers needs.
In a 2021 Executive Marketing Leadership survey of marketing leaders named company blogs as one of their " Most important Channels" for hitting goals. (HubSpot)
As a blogger, I have long understood the value delivered by reading and reviewing articles associated with my research. The blogging world is massive and your business needs to be part of that.
Blogging may not be a sales tool however it is designed to be a silent seller to everyone that enters your world. You will have links, and ways for potential buyers to contact you when the flame is lit.
The customer needs information to move into the buying cycle. They need to know and like you enough to have the confidence to TRUST you, This is the cycle you will build.
Why blogging for business is an excellent idea in a dozen different ways
What does a blog do for you
By linking to your company web page you will increase traffic and overall SEO.
This will also lead to other selections and a comfortable buyer journey.

Similarly your Social Media can act as a go between the blog and web page.
Social media is in place to deliver potential buyers to a Web Page where the buying cycle can be completed. Your check out box is a final destination and only found on a webpage.
We never send web page people to Social media, why?, because they get lost in the black hole going from page to page being entertained by others.

Referrals and readers stay the distance and offer long term results. Your blog may well be shared or bookmarked for future reference and be a consistent generator of business.

Part of blogging is in Link Building. Within a blog you will refer readers to other positions that may include your web page, other blogs, even authority sites to build that trust level.
Further more affiliate links can drive income for you.

This is also a great way to distribute company news, product releases, staff changes, Financial results , awards, activities, staff profiles, challenges etc.

Like any marketing media, entertainment is a valuable contributor. We all love humour and story telling to deliver a message, however well disguised in frivolity.

plus lot's more
7) The client learning curve needs to be catered to when they seek extra information on a product or service. When they are buying a new Chainsaw they want to know everything about it. All this can be explained in a blog that is accessed by great Keyword research.

8) Every industry has changing parameters or trends that need to be followed. Your blog can accommodate all this news right across a large reader base of all customers and not just your own.

9) Product reviews achieve large reader input when done comprehensively. Not only review your own products but run comparison lists to the competitors highlighting your strengths. Readers will be drawn to your business as the excellent provider because they understand all the features, pro's and cons of the product.
You wont rag the opposition, in fact you will just show why you are superior.

10) Linking to an affiliate product. Whist you sell the chain saw you may link to a Oil Provider, sharpening service, Glove provider, First aid Kit ( joking) or all sorts of contributing products. This could be a nice tidy side earn for all your work.

11) Brand awareness. This is a great way to build your brand across all the media and delivering much higher traffic flows. Low cost branding will deliver results.

12) Selling product, maybe not directly however it starts the funnel to the final sales point. Using every avenue in a Multi media approach will bring substantial rewards along the way. Blogging is essential to the list.
How to become a successful affiliate marketer
Things you must know about blogging
First of all, and most importantly is being able to be found on an Internet search. The use of Great Keyword research and use is an essential part of blogging.
You need high traffic and low competition however this is not always as simple as it seems.
The word Chainsaw will have high traffic however a whole bundle of competition.
Getting to page one of a search term is necessary if you are going to be read. Nearly 90% of all searches never go past page one, or even the first three listings on that page. ( this excludes paid ads of course.)
By building a Key phrase you enhance the search.
| | |
| --- | --- |
| Chainsaw | Far to competitive |
| The best Chainsaw | Getting a little closer |
| The best Chainsaw for cutting Large cedar logs | Less comp and a target audience |
| Why your Chainsaw will get stuck in a cedar log | Solving a problem |
| When are chainsaws on sale with Amazon | Answering a question |
| How to maintain your chainsaw in winter | To prevent rust etc, |
| Husqvarna Cedar log Chainsaw review | Model 36hgr2.- A review |
I have written more on keywords at prior posts to cover the subject much further
The heading and Meta description
Secondly to the being read program you need to entice readers to read your Blog.
I have said your post needs to be on page one, even then you share the page with 10 others so who reads what.
The answer is the best and most intriguing headline and the Meta description on how you will solve their problem. We do use tools to help with this.
The body of your Blog
Finally, write your blog to be read. Don't get me wrong here I don't make the rules I just use and share them when I can. Google tells us what to do;
Short sentences, less than 25 words
Paragraphs less than 300 words
Written with the reader in mind
Use good size text and spaces
Include images, graphs and lists
Why blogging for business is an excellent idea to achieve Buyer support
What to write about to meet buyer support
Firstly I again refer to HubSpot as my authority support. They did a survey asking readers the exact question;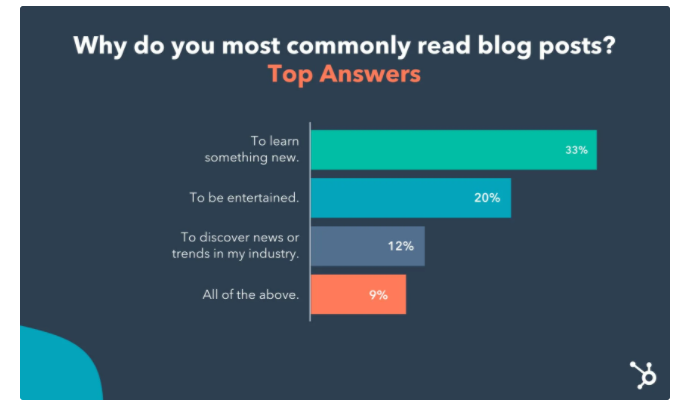 The answer is interesting in that the focus should be answering a question and writing in a light-hearted manner.

However, this will not apply across the board but it does provide a starting point.
What topics should you choose to write your blog about
Your topics will be the hardest decision you will make. What to write about and when?
First of all, consider seasonal influences and holiday periods. Readers' needs will change over the year.
Secondly consider both the age, sex, and location of your audience.
For example, selling a chainsaw to an 18-year-old female may be a hard push. Furthermore, If you have a retail shop in the UK then targeting the US market will be a push too far.
Finally, compose a list. With our Chain Saw example every possible question you could ask. Stories about Saws, both humorous and challenging, problems, uses, Cleaning, fuel choices, different chains, Best ways, How to, When to, and of course why.

When you get to about a hundred then keep going until you exhaust the ideas.

Sort the list and then plan your timeline.
Why blogging for business is an excellent idea made easy for you
Making blog writing a bit easier
This last step will move you forward quicker than plodding along without thought.

You have your list of topics, your audience, and Keywords all worked out.
Now under each Blog write down some subheadings.

| | |
| --- | --- |
| What you are writing about | This is about Chain Saws |
| The solution you offer | The best choice |
| How others have achieved this | Use authorities when you can |
| What they will gain out of it | The benefits |
| The solution | wrap up |
| Your recommendations. | final |
Based on attention, interest, desire, and action
Remember the essentials in a blog
We have covered the basics however let's not forget the purpose. Therefore;



You want BRANDING to be scattered in there somewhere.
Links to your webpage and social media accounts.
Including an Authority link to justify your blog.
Adding your affiliate associations when you can
Pictures, Lists, graphs and colour.
Now your ready to go
my conclusion on blogging for business
We have given you reasons to blog,
" It is one of the most important channels to marketing results"
said the experts.

Then included what to write about and how to do it to save any excuses you may have. Furthermore, this is backed by real results that leave little doubt in your mind.

If you want further experience on this then Wealthy Affiliate has a free training program and even a free blog site that covers all the other questions you may have.
How often to write a blog post
I am including this as a final thought on blogging. Once a day is an ideal program. However that may extend to any period that suits you, It is far better to over post than under post, therefore, set a plan and work the plan.
Getting started is up to you. Furthermore, it is easy to outsource once you have your list and subheadings. In addition, it's now over to you.

Why blogging for business is an excellent idea by Peter Hanley