There are 9 stages to writing a blog Hosting The choice you make at the start will map your future. Choose carefully and do it once.
Estimated reading time: 7 minutes
What does a web host do?
Maintains Site health
Security
Support 24-7
Spam Blocker
Feed Back
Manage comments
These have become important aspects of SEO and site viability.
Then there are
Free websites
Speed, Amazon c3
Lots of web space
Lots of bandwidth
Instant DNS Setup
Data Transfer
Page builder
Full Redundancy
Daily backup
24-7 access
Email accounts
Site comments
A cheap host can ruin your product and leave you stranded at any time. When you have several hundred posts you want the very best performance that is available
The host holds all your work and manages traffic distribution so that you are never flooded with inquiries.
Web support needs to be three dimensional
This is a critical factor in your hosting environment because your blog site will hold several areas that require a different support base.
Hosting problems
You may experience hosting problems at different times because of all sorts of reasons. The important thing is that you have 24/7 support because we live in different parts of the world and in different time zones that can be a day apart. Having to wait for next-day support is just not possible with an active site.
2. Web pages

When you are using WordPress or another type of page builder the customer service is different from your hosting and again 24/7 would be good. You can Google some issues however I find it very time-consuming trying to work through a range of answers that don't meet my problem.
3. Forums
Having a forum of like-minded individuals that are willing to step in and help where they can. Someone always has an answer and the problem can be solved in seconds and not days
4. Support products
You will generally use other related plugins or additions that make your site work better.
These will generally not have the same support levels so the forum can often cover for them.
9 Stages To Writing a Blog. Hosting and changing providers
Can you change hosting providers
In most cases, this is possible however data transfer is often a problem. This is why an operational backup may be required so that you can re-establish at the new location.
Site speed has become a critical issue with Google
The internet is geared toward action and slow-moving pages will have you penalized by Search engines.
First of all site speed and SEO are first measured on mobile devices so your page must be geared to satisfy a little screen with a much slower uptake rate. This means that your Webhost must only use software that caters to mobile-first operations.
We can check this after we write but not before so we really need to have hosting confidence right at the start. A Google Mobile-friendly search answers these questions.

Which hosting company is best
You will see many promoting hosts that are cheap or expensive, and promise much but how do you choose from a massive range of opportunities.
I have tried quite a few before I settled on Wealthy Affiliate. Importantly you can try a free site with training to get you up and going.
9 Stages To Writing a Blog. Hosting and the different types


Types of Hosting
I use Wealthy Affiliate as an example of WordPress and page builder hosting.
There are many different sorts of hosting
Shared hosting, is cheap and can be slower
VPS (Virtual Private Server) is more expensive
Dedicated hosting for the big players
WordPress Web Hosting
Sitechecker listed the best in their estimates.
Bluehost – Best Web Host for Beginners
Dreamhost – Best Web Hosting with Month-to-Month Plans
HostGator – Best for Lean/Minimal Needs
Hostinger – Best Cheap Hosting Plans
A2 Hosting – Best Web Hosting Service for Speed
SiteGround – Best Customer Service
Inmotion – Best VPS Hosting
My problem with all of these is that the prices rise as you want more sites or facilities. Thus you end up paying a premium for what you get.
Bluehost certainly has the highest number of hosted sites in this list and gets a good recommendation.
Running an online shop
This can be achieved with a WordPress site and using a plugin called Woocommerce.
With time and effort, you can build a credible site for any business. WordPress is basically free however you still need a host to park your shop
Another is Shopify.com. Whilst it carries a cost it does have its own hosting and add-ons to
build your product.
These are not cheap options as you build the necessary components to work efficiently.
Are shared sites any good
One of the most popular is Blogger.com a site owned by Google and set up for bloggers.
It is cheap and easy however it has certain critical drawbacks. You are locked into the service, can never move, and will probably lose all your work if you are unhappy.
Ok for a trial but in most cases a trial turns into a project and you have a dilemma.
Do you need to understand coding to use a host?
The majority of websites are now built without an understanding of coding. They use a block builder system that populates the pages and adds information in the correct way. Using WordPress as an example you simply pick what you want to do and place it on the page.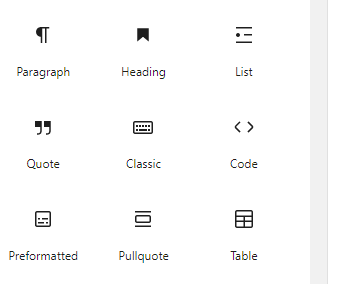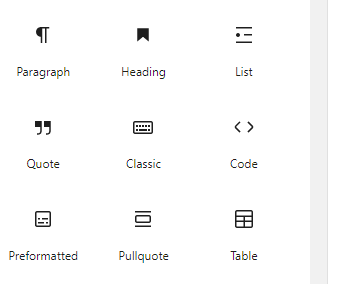 Using a page builder
There are many ways to build your Blog page. The most popular is the free WordPress option being the most popular on the market. It has a ton of plugins and other support services to make the page whatever you want.
The image displays a small share of the options that you click and move.
Many others like Blogger use proprietary software that is usually exclusive to them.
At Wealthy Affiliate, you have a choice of WordPress or their page builder based on the same background.

WordPress is now one of the best performing block builders on the market
Recommendation
I admit to a bias as I have settled on Wealthy Affiliate with an Annual premium. You get everything for one price and there are no up sells.

I started free, went monthly, and then annual, by far the best value available.
However, it is always a matter of choice but may I suggest you log into Wealthy Affiliate and join the forums and ask some questions. Let other users provide you with relevant reasons for making a choice. Ask Questions and get feedback to satisfy your curiosity.
9 stages to writing a blog. Hosting by Peter Hanley