Yoast SEO has gone ahead with great new features so if you want the best SEO available we will tell you why Yoast SEO wins the race
Estimated reading time: 7 minutes
It's always been Yoast v AIO however I have found a winner
In all my training at Wealthy Affiliate there has been a healthy debate over the best SEO plugin for WordPress. In fact I have tried both because of various issues and ideas. However the case is settled for me now.
All in one SEO always led the race having started earlier and having initial backing from many recommendations.
However let's look at the facts and see what the public think

AIO looked at today on Plugin page

This is Yoast on the same day
Here we can now see a clear winner in the race with Yoast romping ahead in the installation race
Why has Yoast gone ahead of the market
First of all they have both a SEO and writing critique checker.
This is a green light process that indicates where you are going wrong and importantly what you need to do about it.
This is my writing for today so I am on track which is unusual for only part way through a post.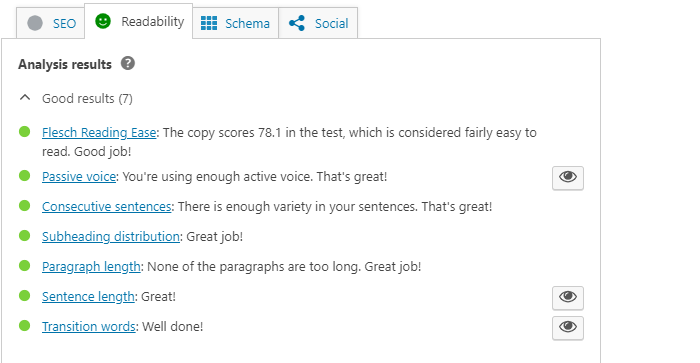 The SEO one should be a bit more interesting because I am sure I am not winning that race.
This is taken live at this part of the post so I shall fix all the issues as I go along. My aim is close to 1500 words with all the red dots turned to Green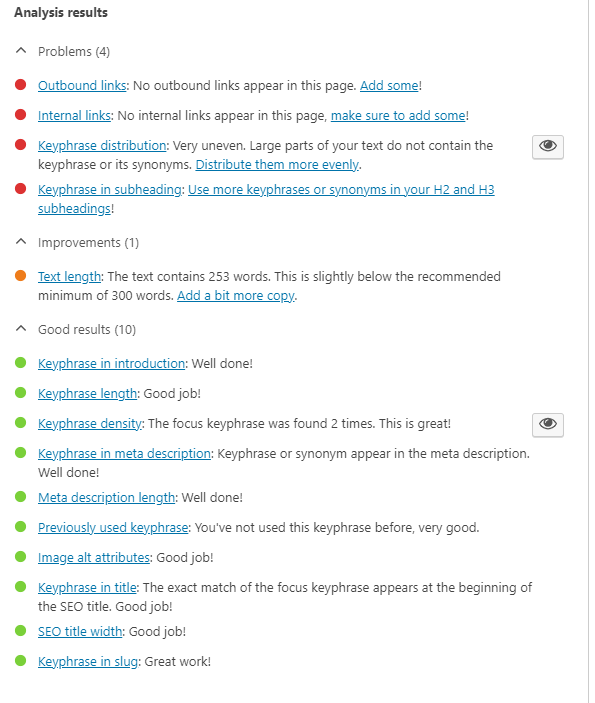 Finally by the end of this blog I will make sure that I have evert green light available.
However I have a bit of work to do yet.
That is just the start of the Yoast SEO benefits
Plug-ins now need to be a lot more than one trick ponies. It was Ok in the beginning however times change and they now need to offer much more.
In this manner Yoast has improved the page building process in WordPress by adding it's own important blocks. Not one but two.
Internal linking blocks
Content list
Internal linking block
structured Data blocks
Reading time meter
Question and answer block
Training
I am guilty in not using these as often as I can, nor did I realise for a while that they existed. You need to be using WordPress 5 block builder and if you have not moved forward I really recommend you do, it is a decade ahead of the old Classic version.
I am using examples of the Yoast blocks in this post


First of all is where to find them. Well they are well down in the block list near the bottom.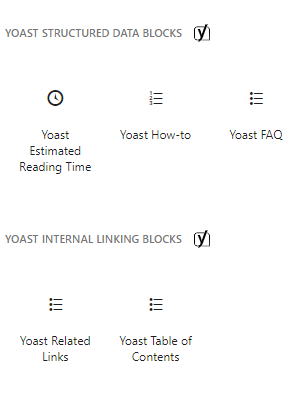 However neither I, nor Yoast, encourage you to use every unit in every post. WordPress has about eighty separate block of which we use just a few in each post or page. All the normal ones off course like headings and paragraphs, images, lists, tables , quotes, custom HTML are your Google search favourites and easy to insert into a post.
I have found that the Yoast Reading time and table of contents are really beneficial
Yoast how to builder
Using Yoast SEO block builder
Upgrade your WordPress to 5.6.1 or later

And save the option

Choose plugins option

Load Yoast SEO

Enter all your site details

and save the results

Use the site blocks on the Left hand side
Click the + symbol at top right hand side

Start writing
The How to plug in follows a simple set of rules that guide you from start to finish and the above is a very rough example. However it can be extremely useful in many circumstances.
Then there is frequently asked questions and I for one will use this much more often.
Is Yoast SEO free
Yes they have a free version plus an upgrade
How much does Yoast SEO premium cost
Generally $89 a year including support
Is the premium Version worth the money
Yes, start with free and you will upgrade at some time
What are the main benefits of the Premium version
The Version is Advert free
It includes the training academy
Key phrase Synonyms
Having fun with Yoast blocks
Like a lot of writers we stick to what we know and really need to be kicked to get out of our normal habits. I am no different.
Furthermore when I chose to write this blog, even though I have used Yoast Pro for over a year, I had not used everything offered so I am just finding how good it really is.
And then there is Schema
First of all I am not going to explain the ins and outs of Schema because it is pretty technical and not for this occasion, However, you can be happy that Yoast does it for you and will make Google happy with the results.
They also add a Social channel so every post or page can be downloaded automatically so that takes one job away.

My conclusion on Yoast SEO
Limiting the use of Plug-ins helps with your page speed and this becomes even more necessary with Mobile only content analysis.
Yoast has all this in one simple plugin which everyone must have for SEO purposes.
Finally I have used most modules on this page and am really happy with the results to date. As you can see their is a lot of value in one source that can not be ignored. Because SEO is so important this plugin is a must have.
Yoast SEO has gone ahead with great new features by Peter Hanley
SEO is top of the important list