How to use WordPress analytics plugin for great results and save your page or post. A free way to get super information fast.
Your analytics start with Google
If you have a Webpage, post or blog you need to have an analytics account with Google to understand your traffic. The account is so full of information that you can control your world.
However it is very confusing to start and perhaps there is a better way.
What do I mean by Analytics
This is your understanding about traffic and Intent.
First of all not all traffic is good traffic, you are on the internet so you will get trashed by bots
that trawl your site and will never buy a product.
Furthermore it is no good selling a mans Razor to a female audience and if you only deliver to your country you are wasting time marketing world wide.

Your Google results determine your place on the internet so it is critical tp work them as well as you can.
Do I need to pay for your analytics?
The basic answer is no. Google analytics is free with no upsells. It is there to build a better internet.
I will shortly introduce to you a service that is also free however you can pay for a higher level of data.
First off all you don't need any programming skills in these modern days so it is mostly a copy and paste service.
What Data do I need to analyze

This will vary with your needs but let's go from the top. It is not traffic as a lot of traffic does not count but the time on site dictates who are the real readers.

You will see a bounce rate, these are the number of hits that go no where. So a traffic of 1000 and a bounce rate of 100% means you got nothing. However a hundred traffic and a bounce rate of 80% means you had traffic but did they stay?
Then you have page views, more than one means they stayed for a little while at least.
Then time on site is the ultimate goal.
Traffic is just the start

You then go deeper into where they are coming from, is it the USA or the USSR or even Nigeria to find your audience. Are they Male/ Female, young or old, on a mobile devise or a computer..

Where did they come from and what pages did they read are all in the results. Time of day and day of week are all shown as well as live traffic. All too much to take in.
Managing google Analytics
I have always found it difficult to maintain a steady look at Google. I would sort of do it on a ad-hoc basis when I was bored or needed specific information, sometimes to late.

One of the problems is that Google changes its algorithms regularly and those changes can affect your traffic, it may be flowing one day and drop the next day without a reason. At these times you need to change but most will just go on blissfully unaware.
If you are unsure how to set up analytics The monster has an easy description
A plugin by Monster Insights solved my problem
I hate lading plugins to my WordPress sight because each one has an impact on the performance and speed of the page.
Google Analytics Plugin for WordPress
We believe that it's easy to double your traffic and sales when you know exactly how people find and use your website. MonsterInsights shows you the stats that matter, so you can grow your business with confidence.
With over 2 million active installs, MonsterInsights is the most popular Google Analytics plugin for WordPress.
At MonsterInsights, we make it "effortless" to properly connect your WordPress site with Google Analytics, so you can start making data-driven decisions to grow your business.
Unlike other Google Analytics plugins, MonsterInsights allow you to enable all advanced Google analytics tracking features with just a few clicks (no need to hire a developer).
The monster tells it all
This is your front page view that is there in your face every time you open your page.
Therefore you know what is happening every day. If you want to visit the main site it is simply clicking the Go To button for all your results.
I have about ten websites all with Analytics so it saves me searching through them all To find what I want.
A great Keyword tool you would never know about
Monster Insights now include a great Header tool that will tell you if your Keyword is acceptable.
This was recently introduced and certainly helps in creating a heading that will get read.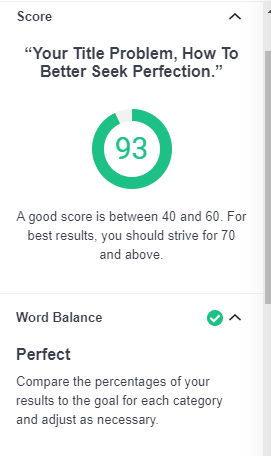 I have written a lot more on this recently at Your Keyword Problem and nine simple solutions That will better explain the header tool and the application to your post.
Again this is a case of analyzing your Keyword and putting the right words in the correct place. Absolutely necessary in this competitive world of searching where the competition for page one is really difficult.
Analytics is a complete subject you can teach
I am not trying to teach analytics instead my purpose is to encourage its use as often as possible.
Knowing what you are doing and where you are going is an important feature of Internet Marketing.
Understand your viewing audience and write to them, where they are in a single shot and not a shotgun approach.
yes this subject is so intense you van learn more and sell your services to those without the time to dig to deeply into the results.
How to use WordPress analytics plugin for great results. With Wealthy Affiliate
More learning at Wealthy Affiliate
If you are unsure of your direction and what all this means then go back and review your learning.
That way you don't waste time lost in the internet wilderness. We know you can waste money but time is as important so work from a knowledge background.
My conclusion on analytics


This is where you start the journey not where you finish it. Learn to understand your audience and what they want from you. Furthermore how you can deliver that knowledge to them.
You must have an Google analytics account for every web page you are involved in and if it is a WordPress site use the Monster insights plug in to support your daily viewing.
Read where business gain far greater customer reach and hence profit by knowing the readers and catering to their likes.
Google analytics is not a nice to do process it is a must do as you track your growth and where it comes from.
How to use WordPress analytics plugin for great results by Peter Hanley

Analysis is an art that leads to results.