What is the best social media platform for business and why? Wasting your time trying to get followers that are just not interested
Choosing the right Social Media is not hard

Let's face it Social Media is time-consuming and a chore to keep up to date.

Everyone struggles with this and the more media you use the greater your input.
However, it is probably not a greater return for the effort.

Social Media has pretty defined channels, these go from Kids to Seniors and all in between so which one suits you.
What's more, if you are not active it matters not, nothing will work.

Harsh it may be, however, it is a fact of life that the more posts the more reception.
Social users by hours spent in the US
In late 2019 Statista compiled the following data.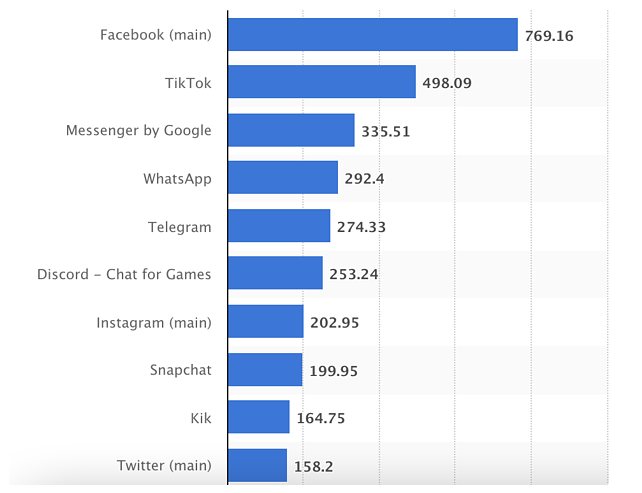 You may think that this is the ultimate goal and that Facebook has it all so it is the only place to be. However, you may be wrong.

Facebook has a varied demographic that says;
Whilst 70% of US people have a Facebook account it is spread in two areas

80% of 18-29 year old's have an active Facebook account.
65% of those over 50 have an account. (HubSpot)
Then we have a look at others
Instagram only has a 37% acceptance
73% are aged between 18-24
What they don't say here is that Instagram has a majority Female audience.
That audience is ripe for the correct market.
Twitter only comes in with a 27% capture and:
40% of 18-29 are users and less than 20% are over 50.
TikTok has a 15-21 age group although growing older.
Whilst these figures are a year old they do come from reliable resources.

What is the best social media platform for business, how to choose?
Therefore what media to choose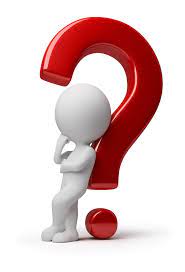 Your selection will be determined by several things;
Certainly age group counts
Percentage male / female
Education
What you want to post
First of all, I believe everyone should have a Facebook page. It has the largest following group and covers a range of ages and sex. It helps with branding and allows advertising at a cheap rate.
Many followers use Facebook as reference material so if you are not there you miss out.
Instagram (owned by Facebook ) has a higher female group than the others. This allows for great pictures and movies to entice your crowd.

It works great for Women's Wear, Hairdressers, Skin products, Babies, etc.
It however lacks on the Blokey stuff.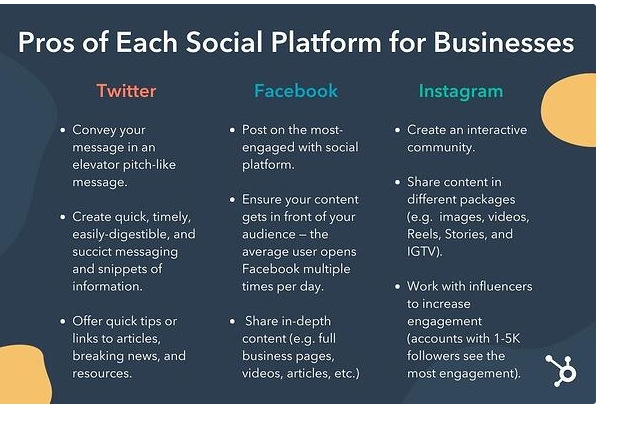 This is produced by HubSpot who should know what they are doing so take note.

What are the best social media platform for business and the most important element?
The most important element of Social Media
Read and believe. The success of your marketing will depend on consistency. You need to post up to three times a day every day of the week. No not once a week or once a month you need to bash it with a big stick and hammer it.
That is why you make one media your preferred outlet it takes some time and organising.



But, you say, what do I post to bring viewers?

Hairdressers post customer snaps, clothing stores post pictures of the lovely suitably robed to impress. Coffee outlets with all things coffee and so on.
You need to be inventive and creative to appeal to the reader group. You need to be interesting and attractive to compete in a busy market. It takes time and effort.
Do your avatar of the perfect customer
This is where you break down your buying group. What age am I trying to attract? It is no use marketing retirement packages to TikTok users, they are not interested.
Therefore choose your age group carefully.
Are they Male or Female predominantly in your audience. Selling Off-Road tyres to 20 something girls is going to be a waste of time, likewise baby clothes to the blokes won't cut it either.
Sometimes you will have a cross-over audience. For example baby carriages and cots etc.
We know that young mums are the demographic however the grand parents also feature highly in this. A mix of Instagram and Facebook adds to the confusion.

What is the best social media platform for businesses to find out by testing?
Test your market
You will soon discover the best market or even the worst by trial and error. This will pave the way if you want to do paid advertising. You want to be sure of success before paying out money.
Adding links to your media
This is one way of directing traffic to more focused selling material. It may be a Website, Blog post, or YouTube channel that completes the circle.

Your Social media is a delivery device, you entertain to solicit more traffic. Let's face it we are doing this for business, not for fun so make it pay however you can.
One trap that many fall for is delivering readers from a selling page back to a Social site. Imagine your trips to YouTube as you get lost in the Vortex looking at all sorts of junk.

Social Media is a delivery mechanism not the end location
My Social conclusion
It is all about choice, finding the right demographic, and targeting with a plan in mind.

Trying to do too much across too many platforms will bring down your performance unless you outsource the work.

Results will depend on volume. If you post often enough they will come and they will buy.

Besides this is not for fun, it is your business and you must demand results from your media efforts.

And again I believe everyone should have a Facebook site. It is used as a reference location
and remains the largest media by a long way.
What is the best social media platform for business and why? By Peter Hanley