Facebook and business go together better now than ever before. We will take you through a few steps to make your life easy, and your sales rock.
Have you heard that Facebook is dead?
Well, pardon me but that is most highly exaggerated. In fact, Facebook is booming.
It may have changed, it may be different but it still has more users than any other media.
How then does that relate to your business?.
Facebook is a delivery mechanism
There is often confusion between a Facebook page and a Web Page or blog.
Who controls whom and is it really important?

The answer is a resounding yes, and an answer not often discussed in the media.

Your web page is designed to sell, it will have a call to action and lots of posts and pages.
You will openly display your contact details and locations.

It may contain links to authority sites, but those links are one way and the reader is Returned
when they have the information they want.
Facebook is there to deliver readers to your main page, either by stealth or by a hammer – it matters not.
When you are on Facebook you have every chance of getting lost, diverted off to another page or link and never coming back. So sending your page viewers to Facebook is in danger of losing them to some bright object or another page.
So the answer is Facebook readers to your website and website viewers to a sales option.
Facebook and business a Maarketing tool
A marketing tool
I use Facebook in my marketing toolbox. When I want to research a potential client I will always look at the Facebook page for extra information. It will usually have email addresses, contact details and a lot about the business.
This is where a neglected site will impact badly on your potential.
When I want to understand a client better, Facebook is a window to the company.
You may have pictures of your staff and activities and provide that opportunity to know you better.
It is, however, a two-way street. Your opportunity is as good as someone else's so use it well
An important factor in Know, like and trust
It is a rule of marketing that clients need to know you and like you before placing enough trust to buy from you.

Facebook is really important in the first two elements because it can deliver the message you want to tell and affirm your bonded association.
The other rule we often highlight is the rule of 7. That is, you need seven touches of some kind before a buyer will gain that trust. Facebook can be an important touch.
Perhaps an entertainment vehicle
With about 2.5 billion Facebook pages, how do you make yours stand out?
The local authority is probably the main generator here. I don't want to search for a business in Russia when I live in the land down under. I will search locally and that is where you will be found.
When people get to your page they want to be entertained, or, they quickly disappear
Do active snaps of real people in real situations actively involved in business
Remember it is all about them, give answers, build on fear, provide a time advantage

You want their business and you want it now.
Facebook and business: your visual identity
A shopfront window
Readers will judge you on your brand. Your Facebook page is just part of the overall image
and if it disapoints you will lose business.

believe me, you will have Facebook viewers and referrals, so think of it as your shopfront.
They make life easy with a scheduler
One of the great things about Facebook is that you can schedule posts ahead of time.

This means that you can enter a week or month of posts at one time making life easy.

It also allows others to do it for you if you wish to delegate.
I have several business sites and some I post to daily ( I do it once a week) and some
I post twice a week for a month ahead. This I generally do on a spare half hour on a weekend
so it does not interfere with my week, however, it gets done
Then they move the scheduler
As someone commented to me this week, the Facebook play hide a seek with the buttons.
They make changes all the time and probably to fool the bots and scams.
Choose the Publishing tool on the front page of your business site

Then hit the create button in the top right side

Now load your pictures and comments and use the date scheduler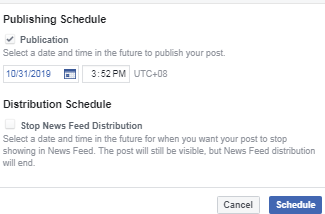 Then share now twice. The job is done.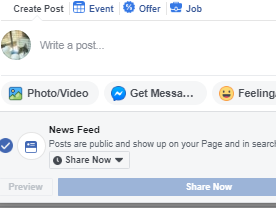 What do you post about
As I have said, you are in the entertainment business so you want to impress. If you are selling to local markets lots of snaps and opportunities.
It is about them and solving a problem they have.
What to wear or best to buy, price opportunity or limited time offer.
Do you also run with Instagram
Instagram is owned by Facebook, however, it targets a mostly female audience of 18-30-year-olds. If this is your demographic, certainly copy it up from Facebook.

Instagram is growing rapidly so it would be well worth trialling it over a period of time to see
what transpires
Other Social Media
Using social media takes time to do it properly so I never advise spreading yourself too broadly. Pinterest has a market so do does Twitter.
You must, however, have a position on LinkedIn. It has a viewing audience that is worldwide
that want to know more about you, have a great picture and a well written Bio and keep it current
Conclusion
Facebook is an important part of your overall brand so please don't ignore it.

Remember that it is there to deliver people to your home page or business so that you can
active market to them.
It is very easy to neglect this part of the business so set aside a regular time to keep your posts current and entertaining

Facebook and business by Peter Hanley