Your business either online or fixed requires a constant flow of new customers and that is Why Marketing is Important to do every day in at least 7 ways.
The rule of seven and your marketing
The Marketing Rule of 7 states that a prospect needs to "hear" the advertiser's message at least 7 times before they'll take action to buy that product or service. It's a marketing maxim developed by the movie industry in the 1930s.

Quora
This is as true today as it was in the 30's only now it is so much easier to achieve and at a fraction of the cost.
It is so easy to bundle a package of contact ideas to achieve greater sales. In fact it is almost a necessity in today's market.
First of all count the ways you are using to bring customers in the door or to the screen.
Some of them may be fixed, others associated with branding and then direct approach marketing.
The first is your location a physical address or your web presence or both. They are the entry to your business and must conform to certain rules.
You must be found on Google and your contact details clearly displayed along with terms of trading.
Google my business is a priority
Therefore Google my business is your first priority, it is there for those that want you so make it easy for them.
When some one searches the internet for a category and your not there they go somewhere else. Pretty simple stuff.
This is a free service although you may seek technical advise in setting it up.
Importantly make sure you have a half dozen 5 star reviews.
LinkedIn is a business tool
This is the phone book of the internet. When anyone wants information about you it is the first place to go. This means you must appear in any search or they may move on.
You will need a great photo and a good write up about you and your business and you can post some articles should you wish to do so.

It is so handy at times although often used by the job hunters seeking talent.
I found a credit card just this week outside a coffee shop. I handed the card in and went home to search on the internet for the name on the card, found him on LinkedIn and rang him to ask if he was missing a card. His answer was no a I used it about 15 minutes ago. Then he checked and yeas it was his. That did not generate business but it shows how powerful LinkedIn can be.
These are must have business tools
| | |
| --- | --- |
| Your Web page | Set up for Mobile optimization |
| Google my Business | 5 star rating |
| Good SEO | Installing the basics |
| Use of Keywords | with location |
| LinkedIn | Great Bio and picture |
They are the basics of business, who you are, what you do and where you are. When people want you they need to find you and fast.
Define your target market before you spend money and time.
A target market can be a group of people or a general audience based around certain criterion.
Certainly gender is a target
Age is important
Interests is easy
Social class
Location
Consumption habits
Buying power
It is no good targeting Teens with Retirement Home material or seniors with the benefits of TikTok because there is little or no interest from those groups.

Harley Davidson buyers shun Honda's and many Ford buyers have little Interest in Chrysler.
Selling an F 250 in New York would be as hard as selling a Prious in Texas, it will never happen.
How to choose the correct Social Media
Social media has a clearly designated age following that can make a difference to your results.

We start at TikTok that is definitely those under 20 years old. No we wont sell them a Harley Davidson but we might introduce a Taylor Swift album.
Next is Instagram in fact we grabbed a blog recently that showed this clearly.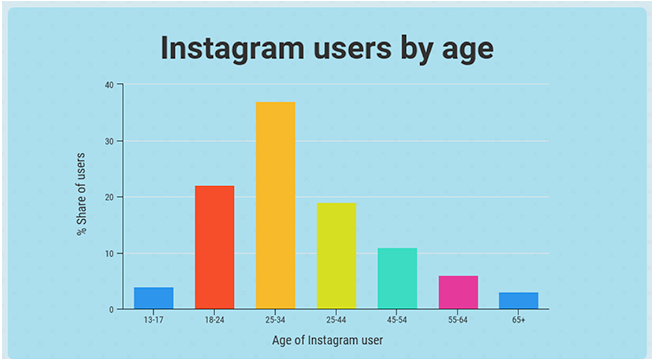 As you can see by 45 years of age your target is really reduced so you would really concentrate on those in the 25-54 age group.
Facebook although originally a College product now moves the above graph out to an older range.
Pinterest takes this even a step further going older again.
Is local targeting worthwhile
If you are the local Butcher, Baker type business then definitely use your location in your Keywords.
The best butcher in North Dakota is targeting a customer base that may walk in the door. If you market local then target local.
I have a business that is National but not appropriate to any other country or region. My approach is to stay within the confounds of my market and not venture beyond what I can supply.
Marketing is necessary for growth
You need an ever expanding customer base that increases with your desire to capture a greater percentage of sales and income.
If you don't grow you will surely loose your market share.
However that growth must come at an economic cost or all the advantages will be lost in ever increasing payments far outspending a return.
This is a trap that can be your ruin.
Therefor a great marketing plan based on a targeted market is necessary for every business.
What goes into a marketing plan?
First of all is a result. A commitment you want to achieve in a time line of choice.

Starting from the end helps to clarify what you need to achieve your Goal.
Let's say you want to sell 500 books written buy you that no one knows about. You want to do this in twelve months and only spend X dollars to make it worth while.
first of all we flatten the market to around 40 a month to reach our target or we may go more realistic and have a growth curve.
Month-1
Month-2
Month-3
Month-4
Month-5
Month-6
Month-7
Month-8
Month-9
Month-10
Month-11
Month-12
5
10
15
20
25
30
40
50
60
70
80
95
500
Then apply at least seven ways to bring in income however those seven ways may target one buyer.
Not every method will drag in buyers so apply as many as you can as cheaply as possible using modern marketing methods which really include Social Media.
Do international companies apply local marketing?

As an example BMW sent me a email last week with a follow up offer. I had renewed a service contract about a month ago and now a month later they added a new discount package to the offer.
They emailed the offer.
Then directed me to the website to confirm my need
On top of this I received a SMS message just in case I missed the email.

Now that is retargeting, emailing SMS messaging , clicking on the website for a free offer.

They have me in their hands because they also know my car is five years old and I usually swap out at about this time.

BMW is one of the best known brands in the world and they target a single buyer with multiple marketing streams. Not main stream advertising but everyday methods that are available to you.
Is this a message that resonates with you.
Marketing is important because it touches customers
There is another rule in marketing that should be applied and that is people buy when the know you, like you and trust you. Marketing builds these cornerstones by infiltrating the subconscious mind of the buyers.

It is always surprising when you want to buy a product and you see advertising everywhere. It is on TV , in the papers and magazines just because you have a sudden interest in what they have.
The advertising is always there it is simply your mind shift that has changed.
This is taken a step further with a new concept called re-targeting. With a bit of internet magic called Pixels your search details are captured when you visit some online situation you are bombarded with advertising. It could be Facebook or Instagram, another website in fact anywhere you wander on the Net. Repetition will win the day.
Conclusion
My aim has been to show you why marketing is important and that if others are applying these methods you need to as well.

Online choice is now so big a market that you must be seen to be heard. If not you will be left behind.
Your customers need consistent visual reminders that you are the centre of choice. To do this you need to apply as much marketing expertise as you can gather.
The multi nationals are doing it therefore you need to as well
If you want to learn a lot more about this the training at Wealthy Affiliate will cover most of your needs.
It is free to try and there is no pressure to part with money. However you will get all the basics you need to apply to your business, now, or in the future.
Why Marketing is Important by Peter Hanley