"How To Set Up A Blog Or Post To Meet The stringent Demands Of Google". The rules are set in stone, therefore ignore them at your peril.
Estimated reading time: 8 minutes
Your template should be set in a standard manner
The first thing is your use of headings. A consistent manner is required in use.
first of all, you start big at #1 or #2 and go down the page after that. You never go back up again or pick and choose where you want.

This little pop-up does it all for you. However, you are allowed to run a subheading underneath this by using a #3
A subhead is part of the conversation

You will also notice I used the B or bold tab. I is for italics and the link symbol is for linking.
The three dots at the end are good for deleting a block when you want to change your setup.
You can also place the sub anywhere you want by using the three bars or moving it with the < up and down arrows.
It is quite ok to colour anything you want however never go mad with this option. Background colour for things you want to stand out as with word colours.
Working with words
A couple of things to do here and the first is short sentences, no more than 25 words.

This is coupled with short paragraphs of 300 words or less and you are complying with the rules.
Other writing requirements include using transition words to connect your ideas in a sentence.
The following are examples of words to use
And, in addition to, furthermore, moreover, besides, than, too, also, both-and, another, equally important, first, second, etc., again, further, last, finally, not only-but also, as well as, in the second place, next, likewise, similarly, in fact, as a result, consequently, in the same way, for example, for instance,
Most posts and blogs set out to answer a question so doing this early in the page is recommended.
Of course, spelling and Grammar must be considered but modern spell checkers will make this chore a lot easier.
Adding an Alt description to all images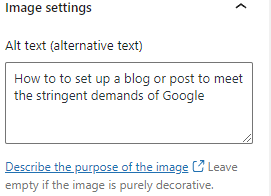 This little box tells Google what the image relates to. You can use your Keyword a majority of the time however not all the time, add some variety when you can.

it is not a general practice to use decorative images. Your image is eye candy to pull the readers to what you are trying to tell them.
Getting further help with your work
I use Yoast SEO as my check box for all my work. You don't have to be perfect and depending on the page structure results will vary.
This is a free plug-in with an advanced upgrade for those wanting more. Some love this little device others hate it however I use it as a bible, they know the rules and I need as much help as possible.
Yoast also provides several great options that include reading time and a table of contents. These however are part of the paid package.
Not using a passive voice too often
This one is my undoing and I often get it wrong. Now whether Google thinks this way or not is debatable however Yoast and Grammarly both are strict on it.
It is a matter of putting the subject first.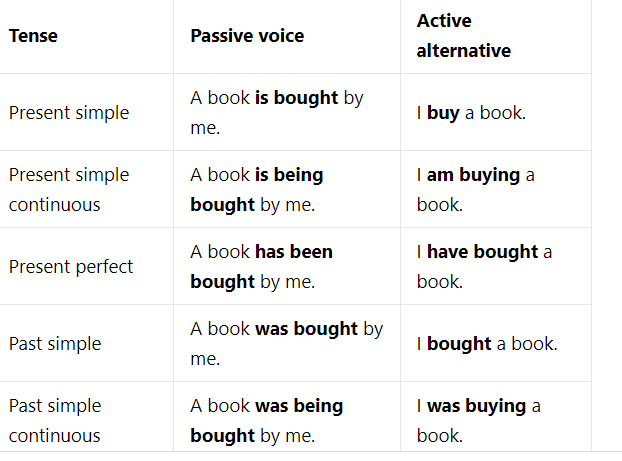 An allowance is made for a small percentage of these.
The importance of including links in your work
1- Authority links
These are reference sites that know more than you and make Google think that your post is worthy of being viewed. An example could be using Wikipedia to further explain a subject.
2. Internal Links
Your work may have many reference pages that can add value to the subject and you can link to them; for example "what topics are best in blogging" is a post I recently completed among many others.
3. External links
You may wish to reference other sites or other materials to build on your knowledge. For example, I have another site where I have written similar material. For instance
"Online business ideas for beginners"
4. Affiliate links and use a nofollow option.
Affiliate links make you money so using them is a great idea however Google wants to know when you use them so they don't follow the site as part of the reading.
I always recommend the training at Wealthy Affiliate for anyone pursuing an Internet career.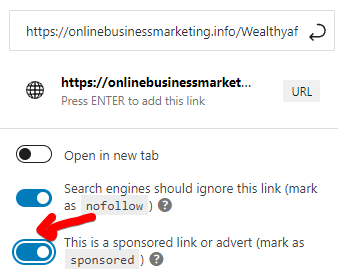 However, this little Word press dropdown does
the job for you.
It tells Google it is a nofollow link and keeps your work in order.
This is a fairly new change so many will not tell you of its importance to writers.
Following this rule is important.
You will also notice the first option that says Open in a new tab. If you are linking to another page by ticking this the reader will be brought back to the current page when they have finished reading.
5. Social media
Let's get one thing straight, when you go to any Social media your readers will get lost with interesting things to follow. Therefore why send them to the Alice in Wonderland hole in the sky? You want to focus on your page.
The idea of Social media is to send people to your material so use it properly and get it to deliver traffic.
This is not a Google rule and can be broken by those that want to.
How to set up a blog or post to meet the stringent demands of Google on a mobile phone
Write for a mobile phone, always
When Google looks at your work it always considers just what it would look like on a mobile phone in the first instance.
So many search queries are done on mobile phones partly due to the rise of voice technology. You can even search Google to see just how you rate.
You should always use the Google Mobile checker after writing your post.
Site speed is paramount to success
This is an underestimated performance tool that makes the difference to your Google Friendship.
Things that can disrupt this are large images and graphs not of a useful size. Again The master gives us a tool to check this and this site scored 100 on a desktop and 95 on a mobile phone
showing some credibility.

Conclusion and summarising the page
These rules are not all that hard as long as you remember to include them every time.
You also have SEO rules to follow that help your site be found but we save them for another day.
How to set up a blog or post to meet the stringent demands of Google by Peter Hanley