What topics are better to do blogging and why. This is a question often asked on Quora so here are the best answers to get you going
Estimated reading time: 10 minutes
Hot topics to blog with.
If you are expecting a smart answer I have one for you. What ever you are passionate about.
Blogging is a journey that may take years so if you are looking for instant wealth it's not here.
The hottest topics also come with the greatest competition thus leaving you out in the cold.
The correct question is what are the best keywords for my chosen topic and then we will give you answers.
Off course Health and Wealth will draw readers in however there are millions of blogs being written every day so where do you stand.
Cars, holidays and camping have a following however Mental health is the new buzz word.
Beauty is big and so are pets as well as product reviews and how to do things.

I could keep listing these out and of course you can do a Google search to find what others believe is trending.

No matter what the blog is about it will have readers and your job is to find them.
Why the best blogs never get read
This comes back to a bloke called Pareto. In ancient times he invented the 80/20 rule that has been religiously discussed over many years.
In blogging you must spend 80% of your time on keywords and SEO. The remaining 20% on content.
Therefore if you spend 80% of your time on Content no one will ever read your stuff.
First of all to have any chance of being read you must be on page one of a search term.
This does not happen easily and in fact takes a lot of effort.
Furthermore there will be about six options on page one and only one will be read but why would it be yours?
If blogging is an art form or a love interest you have a chance of making it.
No I am not mad, blogging is a long journey and unless you go into it with the right frame of mind you will simply give up before success comes your way.

Therefore if you love what you are talking about you may stay the journey and similarly if writing is your craft you will consistently want to get better.
Off course it can be money if you are being paid to write for someone else. A legitimate and healthy occupation however you still need to do it properly.
Finally fame may bring a following and an income but most of us don't have that privilege.
A blog needs to be written in a certain way
Don't go blaming me for this because it is the fault of Google. They make the rules and determine who will be on page one and gather a following.

In general terms they want short sentences and short paragraphs with frequent sub headings. Throw in a few pictures of the correct size with complementing descriptions.
Importantly you should always try to answer a question or solve a problem. Pretty easy really.
How many words do you need to write in a blog?
There is no exact science in this other than a general rule of a minimum 300 and a maximum 3000 to give you the best chance of success.
Most successful writers tend to be around 1500 words to get the message across however that is not a fixed figure.
To write enough words is easy. First of all select about 10 sub headings that start by describing the problem down to a logical solution. Once you have the headings in place just fill in the words to fulfil the result. Ten heading and 150 words each and you are at the magical 1500 words.

Believe me new writers should really follow this formula because it will make your life a lot easier.
Writing should be for readers. The easier to read the longer you will keep them on a page.
Therefore technical writing is not for this space.
My writing summary;
Sentences less than 20 words.
Paragraphs under 300 words
Heading starting at #2 and going down throughout the page, never back up.
A picture tells a thousand words but only if it is related to the subject
Lists, graphs, tables and quotes are all great inclusions
Colour, fonts, buttons and video work for you
Internal links and external links to Authority sites work well

Using keywords in your search term
When we say a Keyword we really mean Key phrase or long tail key words.
I generally think along the lines of a voice search on a mobile device.

First of all Google wants everything done so that it works on a mobile phone or pad.
They rate you first on mobile so it is a must do and not something you can ignore.

How often in a group does someone say Let's Google it. There is always someone that will say "Hi Siri – What topics are better to do blogging and why?"
They wont say blogging, or topics or one word requests they will describe what they want in as many words as it takes. A manual search is no different you just don't have Siri or Bixby to help you.

Bixby(Pocket-lint) – Samsung's Android phones come with their own voice assistant called Bixby, in addition to supporting Google Assistant. Bixby is Samsung's attempt to take on the likes of Siri, Google Assistant and Amazon Alexa.
(Pocket-lint)
What topics are better to do blogging and using Keywords properly
Keywords are the difference between success and failure
Here you have two opposing predicaments, traffic and competition.
Without traffic there is no one searching for your keyword hence no one reading your blog.
However too much traffic and you may get lost in the crowd.
Good traffic words come with a lot of competition, therefore gaining your place on page one of a search term is very difficult.
Finding a balance and working towards page one over time is the goal.
Fortunately we can tell what people are looking for in several ways.
First is a Google search and see what others are looking for. This will give you lots of ideas to think about.
Then using a Keyword tool to give you real world figures and what chance you have of getting read. Remember it is a balance between traffic and competition.
Your blog headline is just as important
Even when you are on page one it is still very competitive. Your headline containing your keyword must be enticing enough to grab someone's attention in the second or two they spend scanning down the list.
My keyword for this post is Blogging. however my headline contains a lot more information based around a question that is posed on a forum.

By narrowing down my search term I cover many of the requirements of Good SEO.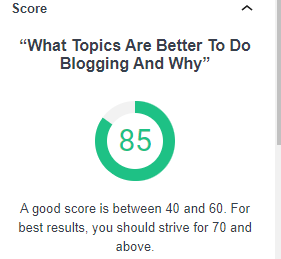 I use a Headline analyser available at Monster Insights, for free and that rates every part of your headline.

As you can see my title is rated quite high.
It depends on character and word count as well as
things like Power words, emotional words and even
common words.

Importantly the first and last three words are what
most visitors will see.
Your meta description must offer a solution
This little 160 character block sits just below your headline. Its job is to reinforce the headline and offer something that makes a person scanning want to click.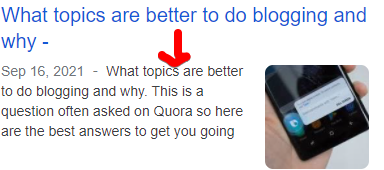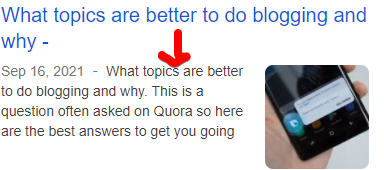 Here I show how this blog will appear
in a Google search.
My Headline and below that my description.

If you don't do this Google will make one up for you.
You will notice a repeat of the Key
phrase which is a good SEO inclusion
What topics are better to do blogging and will hold your interest over time.
Your choice of topics must be your product of interest
I would love to pick a Niche for you however that is your job and only yours.
Going at this to make money never works, it takes time to make it to a regular income and if you give up it is all just a big waste. Therefore If it is something of interest to you then you have a chance of staying the distance.


How to make money with a blog topic
| | |
| --- | --- |
| Advertising income | This needs a big following |
| Affiliate links | The easy way to money |
| Selling physical goods | Certainly on a company page |
| Virtual products | Courses, eBooks. |
| Store page | referring to Amazon sales |
In fact you could include all of these in a single blog
Back up your blog with an authority reference
If you are writing on Health as an example and have no qualifications readers may not believe you. In fact that is often the case.

Therefore to reference an authority site can add power to your assumptions. It May be a medical magazine, to a Doctors report, white page or any recognised authority.
Hospitals. Schools and Universities are good example of adding authority to your assumption.
Again I reiterate that Google loves this type of inclusion so find at least one for every blog.
( using a Wikipedia reference is a cheap way of doing this)
My summary and conclusion
Write down a list of things that will interest you and just drop those that are less enticing to accompany you to the future.
Any niche can be expanded to keep you writing for years ahead.

I am a terrible cook, gardener and all domestic pursuits. All good subjects however I have little or no interest in them. However my wife loves all three so ideally suited to her should she choose to blog.

I chose small business interests because that is my life, it covers blogging as a subject included in my wide range of writing.

I could do exercise for the elderly, Investing in the crypto market, self help which I do include occasionally.

This blog is nearing four hundred individual posts constructed over a bit more than a year and growing a reader base at a consistent growth. That is the journey you are embarking on and why I say do it for love. The distance is less.
I enjoy everything I write, research everything I write and learn many new things along the way.
Grab some basic training
I started out doing the basic training at Wealthy Affiliate and graduating after completing the many courses offered.
Their forum is a great site for information and any questions you have can be easily answered.

The spread of information you will need is broad, Understanding domains, working with WordPress, getting affiliate links, writing skills and available tools to make it easier

There is a lot to learn however do it as you go because it will all make sense in the effort.
On the side panel you will see a little square that will change your life as a writer. You may enter for free and start the training on day one to give you a lot of the basics.

What topics are better to do blogging and a free tool to search your keywords
Your free Keyword tool as a bonus
What topics are better to do blogging and why by Peter Hanley