How to add Affiliate Links in WordPress for better results. This is the money button that must be done properly to maximise income
Estimated reading time: 5 minutes
What are the best Affiliate Links?
First of all, links are not equal. Some build on your word structure others on new material whilst most are for income-producing.
Low-value returns
High-value sales
Recurring revenue
Your income is a factor of volume x value x time.
Let me explain;
If you are selling amazon books and making a few percent on a small value you need to sell a trillion books to get anywhere. Once a good business but not anymore.
Selling a high-priced item with a good margin is ideal however you will have fewer buyers.

A friend of mine targeted one or two buyers a year, these sales would return an income of $10,000 each so they were rare but profitable.
Recurring revenue is much better. If you get paid say $30 a month for three years you have a $1000 sale that you can build a base on.
The background of Affiliate marketing

Checking site statistics
Many sites have their stats page that you can review at any time, certainly Wealthy Affiliate and Jaaxy are leaders in this and can be trusted as extremely reliable. They rely on your leads to grow their business so they can be genuine in what they do.
Here is an example of Jaaxy for this month.
Many use this for checking keywords so the traffic is fairly heavy.

Sometimes we wonder at others whether or not they are so upfront with the results and resulting payments. There may be that nagging doubt at the back of your mind so you would like to know more.
Using a link Cloaker for affiliate sites
My product of choice is the free version of Pretty Links. This gives you verified results of everyone that clicks the link so that you can maintain the results.
I keep a monthly Excel report of all the stats so I can track my progress over time plus see what is working the best.

One important benefit of using these links is that if you want to change them you only do it once and every page or post will be changed.
Having written nearly 400 blogs under this title it would be terrible to have to go back and change all my links. It is necessary because Broken links are bad for your results.
Using a no-follow tag
This is a relatively new concept by our friends at Google who wants you to brand any affiliate links with a no-follow demand.
They make this very easy in WordPress with this dropdown that tells you what to do. This is taken from this page and I have clicked the no sponsored link now showing in blue.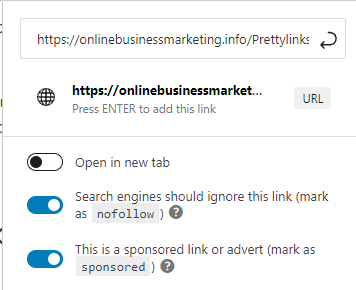 This little drop-down has another great feature when you use the "Open In New Tab" box.
When a reader takes a link to another site they will be dropped when they finish reading. However, by clicking this box they will come back to the current site and continue where they left off. I use this for my authority sites.
Authority sites show that you seek greater powers for their contribution to your writing thus adding credence to what you say. However, you want them to return to the main reading where you may pick up an affiliate link.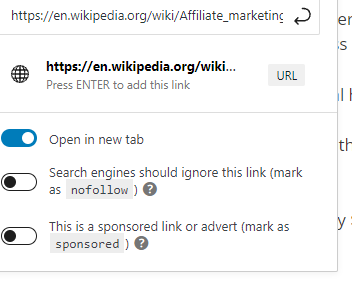 Here I have ticked the Open in a new tab box so that you will return to this page when you have finished.
However, If I want you to go to a new site and not come back I leave it empty.
This is an important feature of linking that you must follow religiously to maintain great SEO
Google has stringent rules for SEO and a recent page outlined these for you.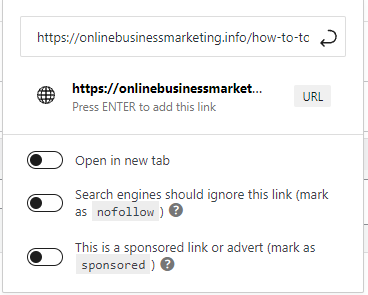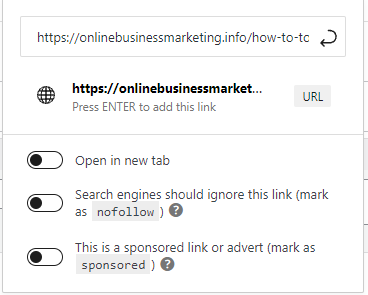 Here I have not ticked any boxes because I am happy for you to start a new reading blog. You would need to find this site in the list on the right-hand side if you wished to return.
This helps you to control your linking to the best effect every time.
Can you have too many affiliate links on a Page or post?
The Google answer is they don't care however the reader will be put off by consistent redirects to a selling site.
We are affiliate marketers so having two or three good links is necessary to get paid for our hard work.
As said above, always include an Authority link and a link to other writing you have done on the subject so that they have more extensive reading.
Conclusion
This should help to increase your understanding of an important subject. Google makes the rules so where ever possible we must oblige them or get a bad mark.
When your future lies in Affiliate income you must treat this with reverence.

It is a delicate balance between too much and too little however you should stay on the lower side to keep the reader's interest.
How to add Affiliate Links in WordPress for better results by Peter Hanley