Here we look at the pitfalls of how to start a small business online and have any chance of success. Business ideas along with training and support.
How to start a small business online
Here you are heading into the most exciting time of your life as you contemplate building a business that will provide funds to live a lifestyle you want.
Is it really possible? Or is this just a daydream with a bad ending?
Millions of people all over the world are running an online business. In fact, the growth in sales is exponential into the future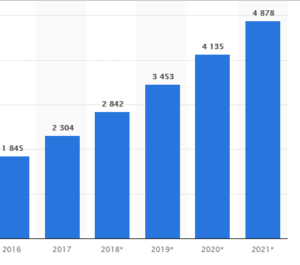 Retail e-Commerce sales worldwide. Now your bit does not seem very big does it?
Best online business
Affiliate marketing
Dropshipping
Social media marketing
E.commerce site
Lead Generation
SEO
Blog writing and Monetise
Develop a training course
This list hardly touches on the possibilities but in all my blogs and training I try and concentrate on those ideas that don't cost you a bundle of money. Your idea should be to build up expertise before launching into full steam marketing and making the many mistakes we all encounter at some time.
Affiliate marketing
What I call the best job in town.

Peter Hanley

You sell someone else's product, you get paid and they deliver, support and bill the customer while you decide what else to sell them. Recurring billing products is the real game because you get paid every month for as long as they are customers.
On this page, you will find links to several products I recommend as a blogger. Yep, you buy I get paid and I make no excuses because that is how it works.
Start a business knowing what to do
I guess that's not Rocket science but it is a mistake made by most of us as we rush ahead of the finish line.
You need to know about Websites, SEO and keywords before you write a word and then how to find the products you want to sell and importantly get paid.

Wealthy Affiliate is a training site for would-be marketers. They offer several levels of training from basic to the most experienced. They also have website hosting that is miles ahead of most services available
I just answered a question from a forum I head and the question was " what is WordPress sites? Now if you can not reel of an answer we need to get you some free homework
"Affiliate Marketing Has Made Businesses Millions And Ordinary People Millionaires.
Affiliate Marketing Maybe Your Next Best Career Move." 
― Larry Bussey

Goodreads

Dropshipping business ideas.
This starts out the same as any marketing with a website or funnels where you sell someone else's product however they hold the inventory and ship it to you.
You pay for the product and bill the customers
Dropshipping suppliers
Sale who
Dropship.me
Alibaba
All drop ship
This is just a sample list as the business is very competitive and needs a bundle of research before you enter the market
The Pros of dropshipping:
– You don't have to buy or store inventory
– Very low startup cost
– Easily add or change your product offerings
Cons of dropshipping:
– Not all wholesalers offer a dropship
–The wholesale cost is based on one product only
– Must spend time researching to pick the right product(s) to sell
Enter this at your leisure and be careful because it is a minefield full of scammers
Social Media marketing
Every business should have a Social Media program but most have no clue what to do with it.
Furthermore, there are many programs to choose from so what is best for them.
Your role is to become an expert in just one of these.
Facebook
Twitter
LinkedIn
Instagram
Snapchat
Pinterest.
There is enough to learn in any one of these to charge a client fee and make a successful career. In fact, a close friend of mine chose Facebook and ended up with a full-time job and had to suspend all the casual clients.
You can do advertising, re-targeting or just keep up the contact stream for any local business.
I have a blog on Training for Social media which offers a whole heap of ideas to move forward
What is an E-commerce site?
Electronic or internet marketing as a shop offers endless possibilities. What's more, an E-shop can be set up for very little money and compete very well in your market.
Shopify is the best known of the shop templates where they charge a small monthly fee however there are loads of training available for whatever you want to sell.
The alternate is on WordPress using a plugin call woocommerce that is free with an upgrade. Which is best? WordPress will be cheaper in the long run and the results depend on your input.
So what do you sell in a shop? Just about anything you want from virtual products to physical products of any kind.
If you have a fixed business of any kind this is really necessary as an online alternative. People shop online before they visit so you really need to be here.
Lead Generation
This is one of the hardest challenges of all the choices but one of the more rewarding.
What Is Lead Generation? Lead generation is the process of attracting and converting strangers and prospects into someone who has indicated interest in your company's product or service. Some examples of lead generators are job applications, blog posts, coupons, live events, and online content

Hubspot
Leads are the lifeblood of any business so they have an intrinsic value that can be traded.
Hub Spot is a good example of lead generation
SEO for the more daring
This is a very crowded space which means you can engage a lot of support and use the expertise of others as you build your own knowledge.
SEO is having your information found on the internet using the correct procedures.
I did write on SEO in a recent blog that may explain more.
It's a huge market but you need a bit more training before you can attempt this. I personally get several offers a day which I politely decline. A lot of the labour comes from India or the Philippines so you can hire support.
Blog Writing and Monetisation
Now don't skip this one, it is my favourite occupation.
You can do it for others, a product, advertising income, personal satisfaction and personal interest.
Whoa, you say what would I write about and I am not a good writer plus my spelling is no good and no one will read what I have to say.
Like any new pursuit in today's world, you can do anything you want. You just need a bit of training and some ideas.

Who needs Blogging? Well, every business you can name that has a web page should have a blog page. It can be part of the WebPage or a stand-alone blog that drives people to what you sell.
It is easy to grab a couple of local businesses and start writing and you are making money. I write as an affiliate because my interest is in a small business area and I want to help people achieve
Online.
I have friends that write on food and wine because it is a passion but you can make it a business and write for money.
Spelling and grammar are easy with programs that check every word and guide you as you write. I am a terrible speller, have been all my life, therefore, I would never type a word without a backup. A good one for anyone is Grammarly.com. It is free and works really well. More information is at blog writing or by searching this site you will find many more.
Developing a training course for a business
Where the heck would you start?
The answer is to read a book and turn it into a course. However, I will let you into a secret here a lot of the work is now being done on Video and no one understands how easy it is with a few tools and YouTube. How to do things is searched heavily on YouTube and can transport people into buyers.
Where do you learn this? That is why I am here to transport you in a direction that will ensure you understand what you are doing. Start with this free resource at Content Samurai and build from there.
Understanding the video will give you a massive look at any small business owner and an income that will recur for years to come.
Email marketing bonus
You should email a group of clients every day, then run a newsletter every two weeks and test and test and sell.
Every business should do emails, it is all part of customer contact but I am willing to bet not one in ten within a 5-mile radius of you is doing it. Now it's a great market opportunity, if ever you saw one.
Conclusion
I have not given in-depth solutions to having a home business, just some ideas that may start your journey into making money. I started with Affiliate marketing an easy entry to learn all the basics and ended with Email marketing that offers endless opportunities. Add to that Video making and you have my three choices that you can obtain easy grounding and have a great chance of success
Start a small business online by Peter Hanley