Groove funnels are the latest fast income builder. This is an opportunity that simply won't last that long so the quick will win the race
What is Groove funnels and why is it so good?
This is a new product by Mike Filsaime but who the heck is he?
Known as the "Michael Jordan" of Digital marketing.
Mike is an author, speaker, software developer, online marketing educator, and marketing consultant.
Mike is now the CEO and Co-Founder of the prestigious GrooveDigital™, Inc. GrooveDigital™ is the fastest growing software platform for digital and e-commerce marketers. With over 450,000 users adopting the platform within the first year alone, Groove.cm CRM and GrooveFunnels™ website and funnel builder are the No. 1 Landing Page and Marketing Funnel Builder on the planet!
This is a market that was dominated by the highly-priced Click Funnels by Russel Brunson.

Click funnels worked for millions but it was out of the reach of the average player because of both the high price and ongoing costs.

Groove set out to change this and get the masses involved.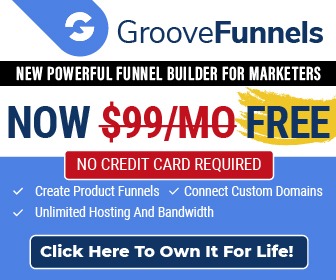 The affiliate builder program and why it is so good
As an affiliate marketer, I have understood the benefits of building a customer base through referral marketing. It is not a new thing and in fact, MLM companies have employed a similar tier structure over many years.
it may even be sometimes considered Pyramid selling, an illegal way of gaining customers however with many differences.

Getting both Multi-Level Marketing and Pyramid selling out of the way is my way of talking about the Elephant in the room. Both of these are associated with a degree of illegal activity.
In particular Pyramid, marketing is where all the money flows to the top.
Any business needs marketing to grow the base. The big end of town spends millions of dollars in all sorts of advertising seeking customers. Plus they all operate an affiliate operation of some kind.
Therefore referral selling is big business particularly when a recurring revenue base is active.
Industries like Real Estate finance and Insurance have done and still do business this way.
The salespeople earn a recurring percentage of what you pay for the lifetime of the policy.
With the internet, it has been very strong in Web Hosting and Data Storage where the monthly customer payments are very low it is difficult to advertise widely or pay big upfront commissions.
A sales funnel free and trained explained
By sharing the regular commitments both earn a reasonable return over time.
I have worked with Wealthy Affiliate, a web hosting and internet training site for several years. The customer base is almost completely based on referral traffic. The recurring payments are shared with those that market the product. This is a great example of single-tier marketing.
To take this a step further extra levels may be included however it may be a sleight of hand in some ways. Payless on level one to accommodate a second tier.
However, it has one important advantage
If you recruit a gun salesperson ( or more) you share in the joy of their sales. This can hike the percentage you receive and not affect them at all.

Finally, this is the model used by Groove, a two-tier system that pays on both levels although at a reduced commission rate on the second level.

Groove funnels are the latest fast income builder that does it properly
Funnels and web pages, are they different?
Well, not exactly as they both live on the internet and display your business.
The main difference is that one is a shopfront of your brand and products whereas a Funnel is a direct selling tool that leads readers to a buying conclusion.

Both can be used by you in your marketing career and work independently of each other.
Groove is mostly about Funnel building whereas Wealthy Affiliate is about website development. Links to both of these on this page.
An area of concern in Affiliate marketing that must be known.
First of all, Groove has this well covered by hard coding however I will come back to that
Many companies and I use Amazon as an example, hold your introduction pixel for a very short time. like 48 Hours. The lead then goes In-House. This is one reason they have lost many outlets. The other is very low commission rates.
Naturally many others employ this method therefore always choose your operators carefully so you are not wasting a whole heap of time and money for little or no return
The groove leads are locked in so once introduced they remain your downline. They use Hard Coding to do this and not just pixel input. This can make a massive difference to your income by not losing leads to the company. It also tracks your downline group properly.
What does Groove actually promote
A great question that starts with a free Affiliate program. A leading program that allows you to use and market a range of products.
| | |
| --- | --- |
| Sales System | Sell unlimited products and services |
| Funnel Builder | Create three for free |
| Autoresponder | Used in email marketing |
| Video marketing | Supercharged embeds |
| Webinar platform | Live or Hybrid |
| e. Commerce platform | Dropshipping and pay on demand |
| Affiliate tracking software | Manage an army of affiliates |
Many of the products available
Here you have a product that will suit just about anyone in the internet business. Don't try and do them all, pick one and get that working before moving on.
Early adopters make the most money
This is true of any new entrant to the market. Collecting your downline is easier when readers see the opportunity presented to make good commissions. You probably won't retire on this however it could pay a regular return if done properly.

Groove also ties into many other areas of opportunity. You can use your funnel to promote any business line or the affiliate opportunity.

Some you can also combine in a multi-channel approach to your target audience. A funnel that attracts email addresses can then be put into an autoresponder to further promote the offer. We know that seminars turn heads so this could also be added to the bundle.
Marketing the bundle offers greater scope for finding an area of interest. They may not want a Funnel however running a seminar could be the important trigger.
Groove funnels are the latest fast income builder is it for you?
On-line marketing can be done by anyone
Working from home, part-time, as a hobby, or as a business are all opportunities available
to anyone.

It just takes a bit of learning and a heap of application to set you on the way to wealth.

There is no instant road to fame and fortune. However, there is a platform that can deliver results.
Your results will be the result of your input.
Blame no one else.
However, enjoy the experience.



My Groove conclusion
Affiliate marketing is the best job in town. It requires no capital and builds a base of customers that could turn into a real business A million-dollar business is available using the correct approach and applying the necessary input.
You can be an affiliate for many businesses at one time as long as they relate to the same marketing niche.

Your audience has an interesting picture and going outside that may affect your credibility.

Selling a Funnel program for instance and then dropping in a CBD sale does not work.
I use the Wealthy Affiliate hosting and training site as a great entry to the market as well.

Always treat the internet with care. It is full of scams and rouges that take your money and deliver nothing.

Anything I promote I use and recommend based on personal experience
Groove funnels is the latest fast income builder by Peter Hanley