WordPress posts or pages. Which is best and how do you add them, link them and support them with great SEO and in addition your keyword selection?
The starting decision should be a page
The page is a static document that sits on your website. It can be the main page or any other sort that you want. You can put the about you page, terms and conditions, credit policy etc as permanent pages.
A post is an active document that cascades from old to new or new to old when you open as a post, the latest is generally the top document. Therefore, your site presents new material when it is opened.
Selecting a page or post is easy
In WordPress this is very easy, go to your dashboard, click Settings, and reading
What you will see is this page.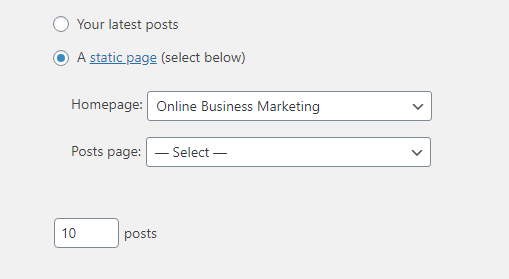 Firstly, I have clicked the Static page button. This tells my website to open on a page not a post.
Secondly, it selects which Home page to open on. Using the toggle arrow you can change this at any time.
In addition, it asks how many blog titles I want to show on my menu bar, in this case the number is 10.
Is a post or page right for you?
My site, for instance, has hundreds of posts about Online business marketing. Therefore I use a static page to provide an overview of the site.
Furthermore, in my menu, I list other relevant information like:
| | |
| --- | --- |
| About me page | My branding |
| Terms and conditions | Includes Privacy policy |
| Missed call calculator | A useful device for business |
Certainly useful info
And finally I concentrate on my SEO activity around that page.
Posting in the Corona Pandemic
As I write this we are all housebound due to COVID however that is a great example of when a post page would be useful.
If I was blogging daily updates on new cases and other important matters it would be important that the latest post came up when someone logged in.
This is important because readers go straight to the information they want and don't have to waste time searching the site.
Finally it may not be Covid-19 but maybe, traffic conditions, weather, surf report or any similar issues.
This is a simple guide to Add a post or page to WordPress however there is more.
Keywords and your post or page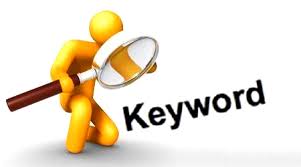 First of all, the term Keywords has now been replaced by Key phrases because most searches use a combination of words. Importantly, they mean the same thing
Above all else is Keyword management. Learning to blog is relatively easy but being found is something else. That is why Keyword research is so important.
Fortunately for you life is made easy with Keyword tools however you must have a basic understanding.
Traffic in keywords
This is the first important ingrediant in your search. Yes, we need traffic but too much and you get lost in the mire.

When your Keyword is searched it will arrive on a Google search result however among a bundle of other searches.
Competition in Keywords
Secondly, you must address the competition for your Keyword. People don't search beyond page one. so if you are on page 22 you will never be seen.
Types of Keywords
| | |
| --- | --- |
| Head | WordPress |
| Mid Tail | WordPress keywords |
| Long Tail | WordPress keywords using posts and pages |
These are for example



Checking keyword traffic is easy

There are many Keyword planners and I have discussed this in full in a prior article. However there are some easy ways.
Google trends will give you results
Uber suggest by Neil Patel
Jaaxy keyword tool
Too many others to list but the above will display everything you need.
Which one do I use?
All of them nearly every time because it is the difference between success and failure. Your Keyword tools
Adding pictures to a post or page
Importantly, pictures draw the readers' attention. At the top of the post and during the script. However, it is also important that the pictures relate to the article.
Random shots confuse people and you will lose them quickly.

Writing your award-winning article
Finally, there is a lot more to any product on WordPress.
Here we have cleared up a couple of the starting blocks to get you thinking about structure. I recommend training and support at Wealthy Affiliate as your starting position. Feel free to start and it will take you step by step through all the issues without paying money.
Conclusion
Importantly there is a lot to learn however it is now all available so anyone can learn and complete a great product.
This is your starting place so now go out and wow the world with your award winning articles.
Add post or page in WordPress by Peter Hanley