What is Instagram and will it deliver great results for business, it can, however you need to understand what you are doing or achieve nil
Come out from under the rock
Everyone knows about Instagram which is wholly owned by Facebook and a place for telling stories in pictures. It has been around for about eight years and is just a mobile-based media. Therefore not a business product. However, everything has a place and just maybe Instagram could be your savior.
Does Instagram work
Yes, it does however only in certain situations and to the correct demographic,

All Social media has a certain capture audience. Facebook was the first to launch and had a target of College students. Age about 20 and interested in the opposite sex. A pretty small target market and one that few businesses would contemplate.

Facebook has changed over the years and so have the followers. For a while, it was teenagers however they got bored with it and moved on.
Then businesses found it useful because smart marketers told them so. We all clamored aboard and dutifully gave Zuckerburg all our private details to be used anyway he wanted.
When he got enough business on board they then persuaded us to spend money marketing to other businesses and increasing his wealth exponentially.

So the free Facebook page became a money pit that was just about endless. Like us all enough is not enough and that Instagram mob were taking his business away from him so to the coin jar he went and through a billion big ones at them to hand over their customer base

I guess I would roll over for a billion dollars as well and hence Facebook-owned Instagram.
Therefore he got more of your private details so that they could extract your funds to advertise on the Gram.
So Instagram was a huge success for everyone that owned it but we punters were left behind wondering where our great wealth would come from.
What is Instagram used for in business
First of all, Instagram has a fairly defined bunch of users. Mostly Female and varying between about 20-45 years old. So if this is not your market you can find better options which we will cover later, but for now, we are laser-focused on Instagram.
A family member started a local hairdressing shop, she was young at about 25 but well trained with some good ideas. Firstly she specialised in Women's hair of a certain style and in the younger set that would pay her premium prices.

Next, she eliminated all expenses that would affect the result. When I asked about a receptionist the answer was they could book on Instagram, she did not need a receptionist.

Then we wondered about marketing and the answer was much the same, I will post two or three hairstyles we have done on Instagram every day.
And she has. Plus it costs her nothing to do this.
The result is one of the most successful salons in the area now running under management because she is at home with new twin girls to add to the two-year-old girl she has.
She has only used Instagram and has not moved from her original plans.

This shows that the target audience, females, 30-45 with money is the demographic
My next Instagram story of success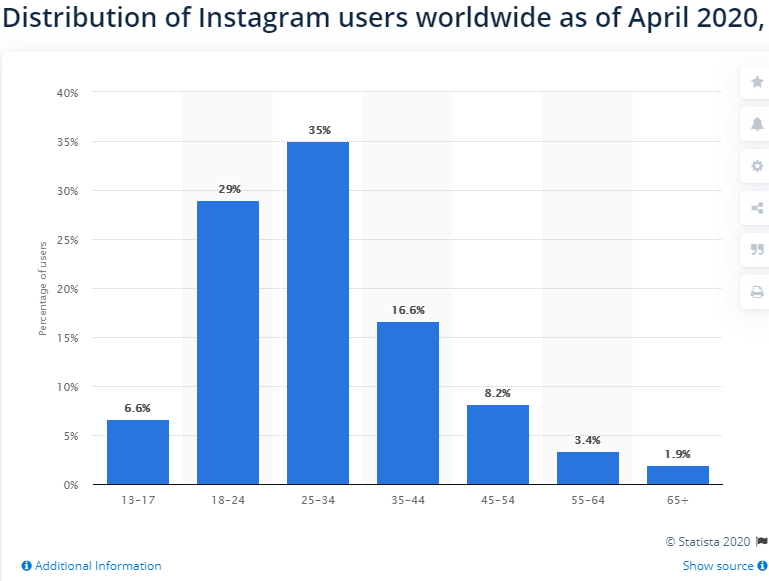 Another Girl bought an established Female dress shop in a large country setting. The opportunity for growth was limited due to the capture area of the location and not a whole lot of through traffic.

Her first job was to build an online shop that would display all the items she sold and then link them to the store stock.
This enabled viewers to know what was in stock, the price, and the ability to complete the purchase online.
Having an online shop was beneficial and using good keywords and SEO, sales started to trickle in.

Having your outlet and telling no one does not work so she set about setting up her Facebook page.

The shop goods catered to the 30-60 age group, women, and budget shopping. You are competing against the major clothing retailers with online shopping so the challenge was big.
With this in mind, the marketing went with a mix of Facebook and Instagram to broaden the capture group.
What is Instagram and will it deliver great results for business by using two media
Pick your media
Instagram dominated the posts with both in-store photos of the staff modeling the goods and professional photos as well. They found that the happy staff snaps provided a local feel and worked as well as the Pro shots. these dominated on Instagram.

The result has sales made right across the country and nearly equaled the store traffic. Although many locals are bought into the store seeking dresses seen online plus outer country areas call in on the way through town to do their buying.

Instagram free posts have worked the best and the shop sees a continual growth pattern.
Interestingly they added a takeaway coffee bar to the front of the shop. They were open all weekend so this could be a drawcard. But how to market it?
Instagram of course, a couple of posts promising something new and then a loud post declaring the takeaway bar was open. The result was instant traffic as so many in town were told.

They have spent no money on advertising on either channel.
A real take away from Instagram
A customer was in the store making a purchase and the staff girl served her, wrapped all the products, and wished her a great day. When she left my daughter asked where she was from and the staff said" I am not sure it was a cash sale so I did not ask for any details"

You could hear the result across town. She explained that you get the name email address and mobile number of every customer so we can put them in our database and make sure they see future marketing.

If a customer is satisfied they become a long-term buyer worth gold in future sales.
Instagram requires consistent messaging
If you are going to do any Social marketing you must do it often, not every week but several times every day. Repetition wins the recognition award and brands your outlet as the place to be.

We often hear a loud sigh and people saying they don't want to see me every day, it is true and when that happens they will just move on however when it hits home it is action time. Don't make rules for them leave the decision to your readers but keep in front of them.
What beats Instagram in Social media

Everything beats Instagram on social media if your target audience is not in that demographic. Selling High priced products to kids on TikTok isn't going to work, probably a waste on Twitter as well, and not on LinkedIn.
Understanding your audience is essential in marketing and this is very much true for all Social media.
A customer of mine sells home security products, doors, window shutters, safe screens, etc. She has found that her demographic was older 50- 75 and often retired. A blend of male and female but more of the female audience. Facebook was the answer for her because that is where the buyers were. The Instagram trendies were too busy with beauty and health to worry about security.
Try Newsletters instead of Social media
If you have a business following this is the ideal way to get your message across.
They will not be looking at Social Media however when a newsletter pops up in their mail you have a chance of being read.

Again it is understanding your market and what is the cheapest and most effective way of getting in front of the sale.
Best email marketing explained
Online marketing is the way to go. Just pick it well.
Conclusion
Instagram works well if your target audience fits the profile of the ideal customer.

I have not set out to tell you how to set up an Instagram service more in showing you why it should be used and importantly to whom it is focussed.
Wasting time on non-productive media is costing you opportunities in better fields.

You are marketing for results so make sure you are getting them or make changes to build your returns.
Don't spend money until you prove your market.
Media advertising is expensive and results variable
What is Instagram and will it deliver great results for business by Peter Hanley