The Blockchain improves blogging security. Many are scared of Blockchain technology but it is changing our world and is now part of blogging
Estimated reading time: 5 minutes
A quick look at Block Chain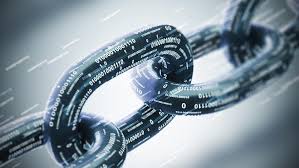 First of all the Block Chain is a new technology invented by a person or group that took on the name Satoshi Nakamoto
The basis of the technology is a very secure ledger system for controlling document distribution that is not subject to change.

The spread of this is worldwide and comes with no country designation. Document transfers are instant and the general cost is minimal.

For instance, you write a will and using a distributed ledger it hangs around until the day the freeloaders line up for their part of the proceeds. If any changes were made to the original document they would be shown and by whom and when. So if cousin Joey tried to pull a swifty and add an extra figure it would be disclosed for all to see.
Thus It is important that no one owns the blockchain so there is no Government intervention or outside influence and its security can not be compromised.
Disruptive technology takes time for general acceptance
The introduction of disruptive technologies has changed the way we do business.
It started with the Internet and then Google, Facebook, and others right through to 5G mobile technology. They are now accepted as part of our normal life, and things we just can not do without.
The BlockChain is such a Technology.
Bitcoin was developed to make the best use of blockchain security and offer a negotiable store of value. Bitcoin transactions use the security and privacy of the blockchain to build a virtual bank. The value is built on buyer demand and a scarcity factor.
Using the same technology many companies were formed to make the best use of the public arena. Ethereum. Solana, Cardano, and link to name a few.

They keep billions of documents a day that retain all the security that BlockChain provides.
They provide a platform for Insurance, Real Estate, banking, and virtually every other high transactional transfer.
Why does your blog page need an extra layer of security
I believe this is really out of the square. First up they are going to time stamp your material so original content can not be disputed. This is an initiative of Trusted Web a European initiative to ensure the originality of your documents
Think of your terms and conditions page and Privacy policy that could have to stand up in a court one day ( heaven forbid). Your original document is time-stamped for all to see and any fraudulent changes are noted.
The people Behind Yoast SEO have an interest in this and are offering free service on their plugin.
With the WordProof integration in Yoast SEO, you can use ten timestamps per month for free. One timestamp is used every time you update the page. To access more timestamps, you'll need to buy a WordProof subscription.

Yoast SEO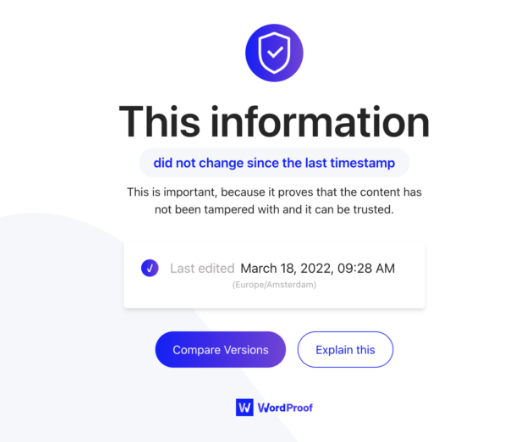 It is important to note that both Yoast's free and paid services qualify for the free offer.
WordProof has won several awards, like the Dutch Blockchain Awards 2020, and the EIC Horizon Prize for the best blockchain solution for social good. This last one consisted of a prize of 1,000,000 euros awarded by the European Commission

Yoast Seo
Therefore this offers a very good opportunity to increase your security.
There will be many other opportunities to secure documents
You may want to protect the Pricing pages, Your about you page, Critical performance details, Logos, and even plans and contract details. Because these are the ones that matter.
This is just the tip of the iceberg in the use of Blockchain technology to provide absolute security for your online information, therefore a necessary inclusion.

However Disruptive technology is needed more than ever to stop scammers.

Buying more time stamps
Yoast gives away 10-time stamps per month for free, and any change is a new stamp. After that, you need to pay.
The free ones apply to the terms and conditions and Privacy policy.

However for those that don't use Yoast go directly to TrustedWeb and deal with them. Prices are very reasonable and appropriate for what they deliver.
This is definitely worth a look.
Conclusion
I love that new disruptive technology offers much change to our everyday life.

As a blogger and Website Author, I have often wondered about how to find an extra level of security that puts the scammer at a disadvantage. Therefore I believe this is a step forward.

We are all affected by a scam at some stage so this is a impose on them and one more nail to stop them.
I have done my pages to experience the result.
Finally, I have no association with the companies above.
The Blockchain improves blogging security by Peter Hanley