Review of Seedprod funnel builder when you want to save money and solicit readers like the experts but not at the cost.
When the galaxies collide, WordPress 5 and Seedprod
I am an unapologetic fan of WordPress 5 (Guttenberg) and understand it is a lightyear leap over the ancient classic version. Users will agree however the hesitant will forever miss out on the many advantages and time saving.
I have tried a few funnel builders however avoided the massive cost of Clickfunnels even though I know it is a good product. To pay the near $200 a month I needed to recruit a bundle of followers and it was not going to happen.
Others bobbed up along the way but they were mostly tied to a hosting network and ongoing upsell extras, this is not my cup of tea, I like more control.
Therefore I have avoided a funnel builder and gone along with my normal blogging and page builders that would do similar things.
Let's face it most funnels are designed as hardsell stories to get you to buy an overpriced article or software.
Monster Insights showed me the way
If you don't know Monster Insights it is a WordPress plugin that enhances Google analytics and provides valuable additional products to deliver superior SEO.
It is sort of a must have product that comes in both a free and paid version and any WordPress site should include it.
Syed Baka the owner is in regular contact to ensure everything is going in the right direction . He introduced me to SeedPod, admittedly during a Black Friday special and at a great price.
I thought I would apply the idea to one of my websites where I can assess the results and see if it is a product I would extend further.
My preference is to take a cautious route in new products because of the many failures that have not lived up to expectations.
We use Wealthy Affiliate as my domain hosting company
There are many reasons for this selection all be it that they are a dedicated WordPress host and I get as many new sites as I want in one price. ( up to 50 anyway) This allows me to set up a trial site to instal new software without damaging an established page.
Yes they grow business on affiliate sales, nothing wrong with that, however they all so supply some of the most advanced training on the market, at no extra charge.
They are not upsell obsessed although they do have three levels of membership starting from a free basis, always a great place to start.
WordPress is a free infrastructure on which you build your future.
Ok, many will understand this but for those that don't let me briefly explain.
WP is what is called an open source software that has a basic structure and to which you can add Plugins. These are simple software items that increase the functions of your site. Many are free and some will cost a small amount of money should you choose them.

I use a plugin to support SEO and writing techniques called Yoast SEO. Again a free version and a pro paid version. I operate both on different sites.
There are literally tens of thousands that are available to do any operation you can think of.
for example Woocommerce for setting up an online shop.
When the world went to block builders
In the dark old days you needed basic programming skills to do many of the features required. Fortunately that is a thing of the past following the release of WordPress 5 in early 2019.
WP5 was indeed different and made life easy, You pick the block you want and fill it in.
This may be as simple as Headline or paragraph right through to hosting a video.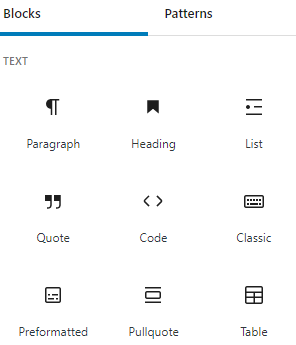 The above example is a small section of what is available, I am now in a paragraph but above is a simple image that can come from a library or upload.
I took a day and set about using everyblock that I could in a new blog until I was happy with the result.
You have colours and many other supporting tools as well.
Now enter Seedprod to take it a step further
Just like Monster Insights took analytics to a new level SeedPod does the same for a Funnel.
Importantly a Funnel is a page that collects readers in the top and sells them at the bottom. In the middle is a journey of explanation and comparison.
It is a sales tool proven to work when created along proper lines.
It really is just another set of blocks. They Combine with WordPress to give you many more options.
"The Most Powerful Landing Page Plugin…
Without the High Costs
Join 1,000,000+ Professionals who use SeedProd to Create High Converting Landing Pages"
Currently available at just $39 a year, a price that is well worth while.

Where I started the journey
I have a site titled Coachhanley.com.
This was an early blogging page before I found out more about keywords .
However I provided an ideal opportunity to test SeedProd and its abilities.
It worked quite well for me although it still needs a bit of work.I was more than happy with all the facilities it offered and the ease in which they were applied.
Remember I am in my seventies so you young brigade will absolutely blitz it
My conclusion about SeedProd
I am very happy with the product abilities and the price. It represents excellent value and achieves a great job with little experience.
You do need some background training to get it going and possibly look at other funnels to get the ideas behind them.

The templates make it very easy and new ones are being posted regularly.

Everyone should have at least one funnel to promote your world and there is no better way than seed prod
Review of Seedprod funnel builder when you want to save money by Peter Hanley
Everyone needs a cost effective funnel.