How to check my site rank and is it really important? There are many ways to track your progress to a page one position where you may be read.
Check My Site Rank
Your site rank is important and constant checking is required to maintain your position in search engine queries.
This is not all an everyday thing but it is information you must be on top of.
I search my analytic site at least twice a week to establish call patterns and see variables in traffic patterns.
The reasons you need to rank.
We all want to be seen, want to be noticed, be at the top of the pile or whatever lights you up but the idea of a website is to be found and a customer or buyer delivered to you.

We do this in two ways: when they know your domain name or when they search keywords in your site that bring the post and page shoppers to view your work.
It's a pretty simple idea really but it needs to be done correctly.
Domain names
It all starts with a domain. For instance, the domain name for this page is www.onlinebusinessmarketing.info and this will always appear as number one on the page when searched.
That is however under the paid advertising that always ranks first.

The keyword for this page is check-my-site-rank

The exact search, however, is www.onlinebusinessmarketing.info/how-to-check-my-site-rank/
Search for your website Performance
Google Webmaster Tools v Google Analytics
These are different products by Google and a simple way to describe the difference between Google Analytics and Google Webmaster Tools is this:

Webmaster Tools provides information, or you can say, insights on how search engines interact with your site, while Google Analytics provides information on how website users interact with your site.

Google search console
This provides information on your SEO potential and covers several very important points.

It provides an overview of your site plus the performance and coverage.

Importantly, it shows mobile usage, a feature that must be included in any current website. If you are not set up as mobile-friendly, your SEO score will be downgraded

https://search.google.com/test/mobile-friendly


Google now ranks mobile before fixed sites so make sure you use a mobile-friendly appearance for all your sites.
Site Map
This is essential on every website. I used mine with an SEO plug-in and a search today showed that every post was listed on a sitemap.
Google uses this to understand your site and crawl the pages so make sure yours is current.
Google Analytics
A must-have for every web-page.
This is not a toy, in fact, it is imperative for every website to link every page and post to Google for analysis.
It contains such a wealth of information starting with traffic numbers, country, time of day weekly monthly results. Demographics, bounces, time on site and lots more
Alexia Ranking
This is a bit of a big boys toy and requires considerable traffic to show your ranking.
Semrush
Much the same as Alexia and mostly for the big kids. You can, however, get a good idea on Backlinks and Keywords plus the cost and ability to pay for traffic.

They report both organic traffic and paid traffic and provide an analysis of each. They do push you to the paid version quickly
Nibbler
This is a new site that completes a pretty good summary of your site performance http://nibbler.silktide.com
In fact, when looking at it I found something I was doing wrong. I scored highly on nearly everything except Social media a very important part of today's world.

It is important that my site scores well when I am telling people what to do
so I need to really adjust this and check later.
Here is how I ranked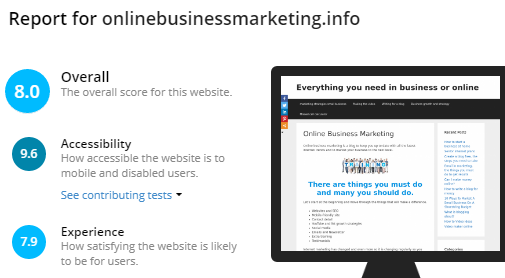 The experience is based on the site age and as this site is only 6 months old we are marked down. However, it will grow to 10 in about three more months.
Wealthy Affiliate stats
When hosting with Wealthy affiliate you get backup stats available at all times.
The first and arguably the most important is Google ranked. Without ranking, you are nowhere to be found.

Next is site trust where any black marks are not nice to have.

Furthermore is regular posting and article quality having an effect on the site. Articles should aim for 1500 words without Keyword stuffing.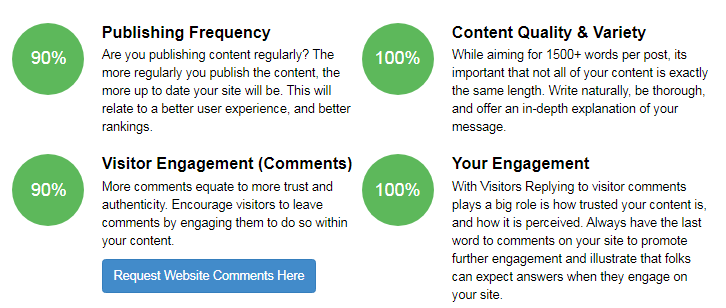 Checking your website
When you are unsure about your site you can always do a web page audit so that you can see your SEO rating as well as performance levels.

This can be found using a simple webmaster tool at https://web.dev/
This may be a bit over your head but it comes with a guide to fix any problems they encounter. Take a note of the address you may want to use it again in the future.
Another free site is Neil Patel. At Ubersuggest.
I like this as I get to check keywords against other tools and check my website for errors.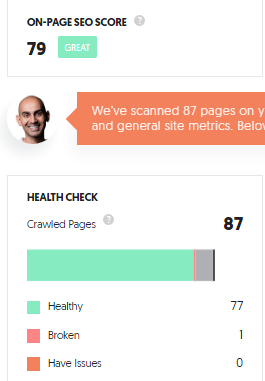 I have now used three different sites with a similar answer and I can take out of them what I want.
Spelling and alt tags
I recently went back and checked every page for spelling and that the pictures had alt tags filled in. This took a bit of time but the exercise proved to be worthwhile.

I updated some pages and generally had a cleanup of any issues I found.
Conclusion
This is an important page, I have given you both free and paid versions of tools to check your site's performance. These are mainstream products that are not going after your money but selected as recognised authorities on the web.

I have shown examples of the page you are on and my current results so you can visualise what you need to know.

It is also important that you fix critical issues where you can and even I have some homework to do.
How to check my site rank by Peter Hanley