Your page title problem, how to better seek perfection and have your product read. Sick of low opening rates, read on to improve your page.
So what is your title or Focus key phrase
We all know this is the words people use to search a product on a search engine like Google or Bing. However what we don't know is how difficult the whole process can be without a real in depth knowledge of what we want.
Importantly we should clear up an issue that may confuse some of you and that is Key Phrases.
We started out with Keywords because that was what you used to find a product, It was easy to look for Nike shoes or Ford cars and find enough places to get the information you wanted. However that has all changed with the expansion of the data base and the use of new search methods, i.e. Voice search.
Above all now you need a whole sentence of words to target your search and come up with the best result.
For example Keyword has become key phrase, the same thing extended.
The conflicting views of experts about key phrases
This will really shake you about because you will never know who to believe until you have proven your own methods.
Most importantly is to use a selection and come up with the best of breed for what you want.
Wealthy Affiliate
Jaaxy
Uber Suggest
Monster insights
Yoast SEO
Any one of a thousand other tools
If you are currently using another plugin then use that as your yardstick to find the best alternative.
However use one that provides market assurance that it knows what is going on.
Monster Insights
The Monster mob run a fantastic Word Press analytics tool that keeps you ahead of the market Furthermore in August 2020 they have added the headline analyzer, a huge step forward in getting your headline read.
They insist on a combination of;
| | |
| --- | --- |
| | |
| Common words | Your goal is 20-30% |
| Uncommon words | Target 10-20% |
| Emotional words | About 13% |
| Power words | Go high at least one |
| Positive sentiment | Don't be negative |
| Character count | Try for 55 characters |
| Word count | six word average |
| Beginning and ending words | First and last three words |
| Over all score | Strive for 70% and above |
Monster insights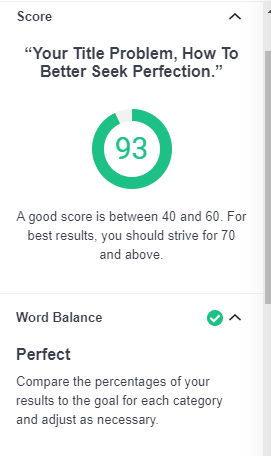 How right did I get this? That is to say will it rank better than another phrase. This was changed from your title problem, then to post title problem and finally page title problem.
Most importantly a Google search must display results and page title did the trick
What did Yoast have to say
They knocked it because I am including too many keywords in the phrase so they red flagged me.
they say that;
In our view, there are at least three things you should do to determine which keywords or keyphrases you should optimize your blog posts for:
Find a focus keyword people search for
Research the search volume
Google your keyphrase
Uber suggest and Wealthy affiliate showed no traffic
I Then used Uber and Wealthy Affiliate which showed little or no traffic on this phrase.
So who is correct?

I went to Jaaxy a more professional tool.
Your page title problem, how to better seek perfection for your article
How to choose the perfect title for your article
They suggested a small change however none revealed any traffic yet a Google search rated it quite well.
Monster insights rated this at 75% because it is without emotion or uncommon words so where do I go.
Using an A/B test would get an answer however I am going to stay with this and report back later on.
Why chase the perfect title, does it really matter?
With several billion searches every day you need to be noticed and you will only do that be being on the first page of a search term.

When you get there you are competing with paid adverts that take the main spots however they are often passed over.
Therefor that leaves the top three spots for over 80% of search results.
Off course your title must be supported by your Meta description a few words to entice readers in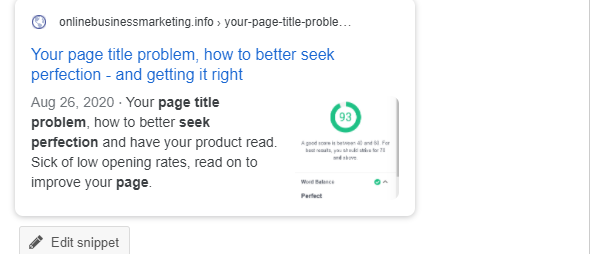 You are limited in characters and advised to include the keyword. Above all you must have some mystery a come in statement to make them click.
I build my websites in WordPress and host with Wealthy Affiliate
Firstly Wealthy Affiliate give you full training on this and a free website to start. Whats more you can include Yoast SEO to make sure your website gets a full SEO opportunity.

This is not a game and the results are big for those that play it well. However you must be in position and read to not drown on the twentieth page of a search term.
Who to believe in headline searches
First of all each tool is correct, Every one draws information from the same source and
report it back to you. However the internet is volatile.
Things have changed over the past couple of years because of the rise in Voice searching.
Secondly it is possible some have not made alterations to bring old data up to date.
Finally the use of mobile phone searches has really altered the landscape.

Does Voice searching really matter?
It is estimated that around 50% of all search traffic will be voice activated just after 2020.
The use of smart phones and devises like Google Home have dramatically changed the landscape.
Voice searches tend to be longer and more detailed in the question asked. Users want a good answer so the better the question therefore the better the answer.

Most importantly Long tail keywords are the new normal and secondly getting longer and more direct.
Google change their algorithms about four times a day so keeping up is a difficult job.
Finally your search term must first work on a mobile devise because that is where Google wants you to go.In addition 50% are using a voice search so the opportunities are narrow.
Knowing your target group will really help in search terms
The first rule of marketing is to identify your target group and build your web presence around them. The younger set 18-30 will probably use Voice search more than others whilst us geriatrics will use a short sentence in fact as short as possible.

More men will use voice than woman ( my guess) and the searches will more relate around local activities. Therefore consider Best restaurant, great cafe , women's' clothes, golf clubs and the like.

That is to say if voice search is your business you must build to cater for your market.
Build your search term around your niche
This is an important element in marketing because people read things differently, hear thing differently and have different intake of what they see.
For example; Ads targeted at 15-23 year old are loud, quick and jump all over the place, a bit like their minds. Whereas a Life care ad is slow and smooth and quiet. I have fun watching TV and picking the target audience based around the ads that are played in the breaks.

Most importantly you must do the same in your headlines
An ad stating Mothers everywhere are using this will eliminate two thirds of the audience at point go.
An example is Kids who are quick adapters, they will know the latest toys available and what is in favor at the moment. They don't take notice of advertising but the toy promoters are cunning they run child ads playing with the toy, that gets into the subconscious of the little darlings and comes out in the toy store.
Conclusion on Your page title
If you are not being read or followed the fault is in your heading. That nano second you had to capture a reader is gone, never to come back. Experiment with the tools I have given you and find a balance that works for you. Above all experiment.
Identify your target audience
Consider there age
Remember Voice search and mobile planning
Target by volume of readers.
Long tail phrases
Your page title problem, how to better seek perfection by Peter Hanley
In addition I have include a free link to Wealthy Affiliate to view their training right below..