edUpay, a golden chance to make your income and learn at the same time. This done for you program really rocks and presents opportunity.

Who is edUpay and what do they do.
First of all this is a program done by Dan Green a guy who has created many courses on Warrior Plus and an JVZoo and well know for quality products.

I am personally not a big believer in some of the short life programs available on these program machines. They are generally done as a quick fix and then start to run dry. However I do follow Dan and Matt Mc Donald and have bought products before, it is a matter of finding Gold Nuggets
among the many daily offers.
edUpay, a golden opportunity to make your income. This is a Gold Nugget
e.learning is a current buzz
Certainly the COVID crisis set a lot of minds into working from home but most could not get to a start, the lack of knowledge and unable to find a niche stalled most creative impulses.

Many e.Learning sites have flourished for years and Udemy is probably the best known of the commercial learning. I tried with Udemi without a lot of success.I found it not really user focused
on what I wanted in a site.

The next step was to create my own training site that ended up have major problems with the web host and no one would own the problem. training site gone.
I certainly promote the online training at Wealthy Affiliate and would recommend this to anyone wanting a web career and multi site hosting even though you do get one for free.

Being in a position to write and produce training manuals on all sorts of marketing I have been looking for the correct venue.

Anyone on the internet needs guidance on certain products at certain times. It may be an Amazon link. or a Buy out of China idea that we are unsure of. Our choices are to Google and research spending valuable hours looking for that hidden idea or to grab a quick training product and save us a whole bundle of time.
Finally if we are in the business why not make some money as we learn, we are on the net make a living so waste not an opportunity.
EdUpay fills all the requirements of online marketing
edUpay have ticked all my boxes. the learning courses are great, I can add my own training and earn a side hustle, they provide web hosting and Google positioning and I can sell the product.
What more can a man want.
If I have got your attention go to the site now and learn all the facts from Dan Green.
You will need a Warrior Forum account to pay the $27.50 for the course (unless the opening price has gone) but that is free and easy. This gives a level of comfort because Warrior +F won't allow bad products and no support.

Naturally it comes with a 20 day money back return and a bundle of up-sells for those wanting to take bigger steps.
edUpay, a golden opportunity to make your income.and your start.

Create your very own web page with your first go.
I would not normally say this is reality, because creating pages and posts is not easy however
edUpay have provided the whole template.
firstly you need to pick a domain name for your site, I chose trainu.edupay.app as my starting site.
They asked me to create a brand page which was easily done.
The simple way is to join Canva . com and make a head image, download and save it.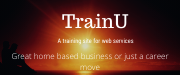 This is free and really easy to do and save in a size that suits you..
Choose a name that you identify with
There is a choice on how to use a name and how to host it. My first choice was to hop on the UdUpay wagon and simply piggyback on their hosting. Trainu@edupay. This is the easy way to go however you are locked in and can never transfer your site away.

You can buy your own domain and then you have complete power over what you do with it.
Godaddy.com is a good place to buy a domain.
Then using your own site and linking to edUpay like I did at new business on line.
Finally you can create a YouTube video that takes people to an affiliate page.
What you do will depend on your level of experience and what you will want to achieve.
I have done them all to get maximum exposure.
Start to promote your page
Next is to get some followers by promoting your page where you can. EdUpay will hand hold you along the way and turn lookers into buyers
Why am I promoting edUpay
Check out these other offers from s1ngular1ty…
First of all it is a huge growing market and the time is right, secondly the product comes from an experienced marketer and edUpay appears to have a long shelf life.

As It loads with training over time it will be an equal to Udemi and you are in on the ground floor
Udemy, founded in May 2010, is an online learning platform aimed at professional adults and students. As of Jan 2020, the platform has more than 50 million students and 57,000 instructors teaching courses in over 65 languages. There have been over 295 million course enrollments.
Wikipedia
Not a high cost product
The cost of entry is reasonable in any country and the eventual results must be massive in this boom time. However action is required.
Above all take your first baby steps now and check out the full training at the Warrior Post and I will personally send you a link to build your own website for free and get all the training you could ever need on building a WordPress website,
My conclusion on edUpay opportunity
If you follow this website you will notice that I don't over sell any products and in fact recommend very few that you should buy. I am aware of the scammers and want to only introduce products that may provide a return on effort. Furthermore I like recurring income products and this covers all the opportunities.

The e Learning space is massive with growth of over $300 million a year and the demand for information growing every day.
Finally I also like products that return reward for effort and this is such an opportunity.
Furthermore getting a product early in the life cycle sometimes takes a bit longer to achieve the massive returns that can be expected but you do secure an early position in the market. A position that will pay hansom dividends along the way.
edUpay, a golden opportunity to make your income by Peter Hanley