How to make a Youtube video in one hour and look like a professional. Start your career for free with the best online video maker available.
Does the video help with your SEO?
The video does help with your SEO in many ways. Optimisation looks at many factors along with;
Time on the site: This is a big rating factor by Google and video keeps them there.
Clicks to the site, an important part of SEO and extras from a video channel will help.
How to do things videos are really popular across all ages.
YouTube is searched nearly as often as Google and heaps more than Bing.
Keyword selection is as important with video as with posting or blogging.
Is it hard to create a video?
We have moved from the dark ages and modern technology makes it very easy to create a professional product.
However there are many steps to consider when thinking about a video.
| | |
| --- | --- |
| Selling something | How to pitch a product |
| Branding your business | Branding is always important |
| Displaying a product | unboxing, how it works |
| entertaining | Funny events |
A few ideas
Like any marketing you must have a desire, a plan and a destination. What are you wanting to achieve by doing a video and how will you rate the results<
Keywords are crucial with Video
Let's face it, Keywords are how people find you and what they search for.
Recently I bought a new Iphone and so did my wife. She immediately googled how to transfer data from one iPhone to another, followed the instructions and used hot swap to complete the job.
In addition, I was having trouble with the brakes on my pushbike, therefore I googled how to adjust the front brakes on a bike. Consequently, I followed the instructions and all fixed.
A new company launched a site going over the amazing solar offer they were marketing. They could use their brand name but no one would ever search for it. They would perhaps choose something like "best solar companies in California."

For example, I used the Jaaxy keyword tool to look this up. As you can see, "best solar companies in California' is an ideal word. Lots of traffic, low competition and a great choice. However, "what is the best solar company in California" is a worse choice because of the low traffic count.
Importantly, this shows how crucial Keyword selection can be.
Page position when filming
Google will often place the video at the start of the search term to make it easy for readers.
First of all and to prove my point I googled "best solar companies in California' and guess what?
However, no one has done a video so the position goes begging for the brave.
Finally, food in California has heaps of videos, as do most other search terms.
Content in a story
The video content will vary with your desire. However, it generally starts to answer a question that is being searched. How to, when too, why, the best etc.
However, it looks at other experiences and testimonials and sets out to provide a solution to the problem. Therefore I use the AIDA principle as my guide;
Attention. What is the problem?
Interest: Others are in a similar position
Desire But these have overcome it
Action: We will show you how

As a result, you will have a format to follow in an easy way to the end result.
Training on scriptwriting
This is available at Content Samurai called Vidsy. there is a lifetime fee but it will save you so much time and effort it is worth the effort.
The free book on video offered is a great starting place plus this is where I started
Then you will get offered a cheat sheet which is great value and a really useful tool. You will get to the Vidsey offer that has a one-year subscription at about $98 for a lifetime. A lot of money you may think except that it will produce product that sells every time. One sale and you are reaping rewards so it is in fact really cheap.

Train on video before you try.
In short. I want you to understand the basics before you start. I want you to be able to gather the correct keywords and put together a script that will draw attention.
Subsequently you will thank me for saving you a lot of wasted time.
The picture background
This is an interesting side of the story that has had a radical change,
For example, for many years promoters suggested a nice clean cloth background.
Importantly a colour that was not too bright or too light.
For instance, I remember hanging the blue sheet across my bookshelf to get the right look.
However, someone changed the rule book and you now have activity behind you.
For example, have a look at all the news crosses, they get as much background in as they can.
Consequently, I find myself looking at a lot of scrappy background shots of home videos that should have cleaned up the bookshelf first, Natural scenery they say as a way of excuse.
Why use youtube?
To sum it up Youtube is not just another storage portal. You can store videos on your page or with your video company like Content Samurai but your YouTube presence can be presented to anyone at any time increasing your views.
YouTube is a search engine just like Google or Bing. Therefore it is essential to use them. They have full analytics that are easy to see and you can link to them from anywhere at any time. From emails, social media, websites and funnels, YouTube is your space to take visitors at any time.
Turn your iPhone to portrait.
This is the latest cry out for those wanting you to do a video for marketing. New phones from both Apple and Android provide a greater user experience in portraits. So use them in portrait, save to youtube.
Going professional with filming
I don't really like my old head on camera so i have found a way to create a product that will rock your socks.
Yes, you still need to do scripting however the rest is done for you.
What you will end up with is a video that will have great images, background music, voice over choices and you can try this for free.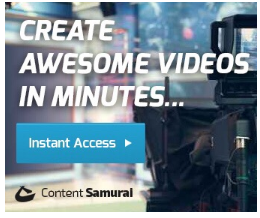 The great part about this is that it is free for seven days to make as many videos as you want and keep them for later. Simply store them on YouTube or on your website and bring them up as you want.
If nothing else, it will set you on the road to production, a journey necessary for every business.
I have tried other more expensive products but always return to Content Samurai.
Make a YouTube video for all the right reasons.
The best reason to video
Let's recap on these so you fully understand why you would make a video.
First of all, your basic SEO, video gets clicks on YouTube and keeps readers on your site for longer.
Next is simply how to do things in your industry. This is high click material that will bring people into your business. Every day we click on one of these to discover answers.
Branding is great because people remember Visual much longer than written.
YouTube is clicked nearly as often as Google's search engine and more than Bing and Yahoo together.
Therefore, it is a massive market that you're missing.
Make your video the easy way
By using Content Samurai you can pump out half a dozen videos every day highlighting your business and gathering a customer following.
They will have a professional edge and bring contacts for years to come.
Finally, you are joining the majority of businesses that are concentrating on this fast growing media.
Make a YouTube video by Peter Hanley